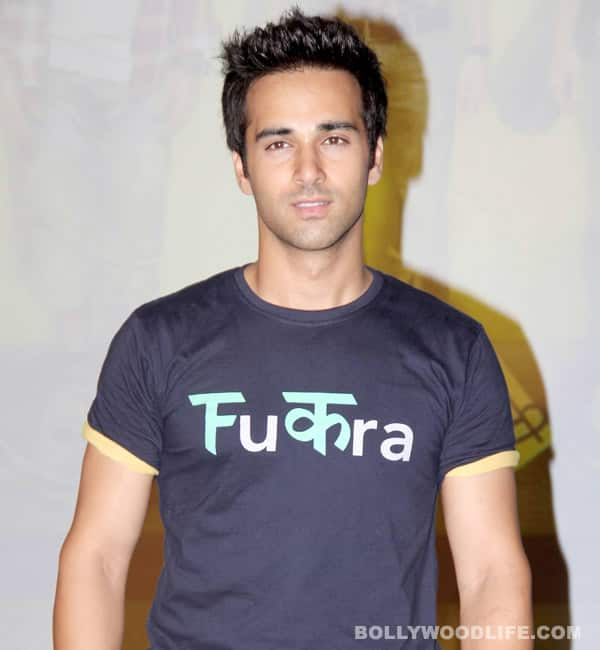 Pulkit and his O Teri co-star Bilal Amrohi talk about their film and lots more
It's been ages since I chatted with newcomers. Before they become stars and get affected. So I set out to interview Pulkit Samrat and Bilal Amrohi. I am happy to report it was fun. Pulkit is quieter, reflects before answering, and doesn't try to impress. But then suddenly disarms you with his zany humour. Bilal is exuberant, chatty and has all his answers down pat. They will be seen in O Teri, which is a comment on the current political situation in the country. Both Bilal and Pulkit are as clued in about the political scenario in the country and the mood of the aam aadmi. But I am not interested in their GK. I want to know about their EQ. These boys will not be on the Koffee With Karan couch anytime soon, so I decided to quiz them in the style of the host of my favourite show. Read on..
What is O Teri about?
Pulkit: It's about what every day our discussions are on the dining table about today's issues and how we should tackle them. But such a message would be boring if put across like that so we have packed it up with a lot of humour and interesting characters. We are playing two guys working in the television industry on the look out for that one big scam that will make us famous. I am the TV reporter and Bilal is the cameraman.
Bilal: It's a coming of age film in a way. I absolutely loved the graph as an audience about these two innocent boys who are like the cartoon characters Tom and Jerry, and how they become heroic towards the end.
In real life are you both the same?
P: I remember at a recent media interaction when the photographers kept asking Bilal to turn and pose left and right, suddenly he yelled, 'Meri pehli film hai! Koi tension nahi hai. Main idhar, udhar, sab jagah dekhta hoon.' (Both start laughing) And for 15 minutes, he's standing there posing for pictures.
B: I have waited for this far too long. I am not going to shy away from the camera. The fact that now I am standing in front of it I am going to enjoy it the most!
How was the first day on the sets?
B: I am a Bandra boy while he's from Delhi and before we met I think he had figured out that the Delhi lingo would be difficult for me so he tutored me before we started. For me it was a bit of a task to get out of this Mumbai ka attitude to a Delhi boy. He really helped me out as an actor. We grew very fond of each other eventually. Then the movie was just a riot!
P: Yeah I am going to marry Bilal some day! (laughs)
How often do you say O teri?
P: I say it a lot. Any situation where I have to say 'beep' in front of my parents is o teri. I say it also when something very exciting happens like Salman bhai's song. When Salman agreed to read the script — that was my biggest o teri moment.
B: I have been working with Atul bhai since his directorial debut. I thought I was going to assist in this film. When they asked me to audition for the role I was stunned! It was an o teri moment for me.
Best thing about being a newcomer?
P: People don't judge you. No expectations. The film industry has been warm in welcoming newcomers.
B: I am allowed to make mistakes. I am not supposed to get everything right in my first film but learn and I have learned a lot.
Action or romance?
P: Lot of action happening in my life so I would like a mix of both. I like all kinds of films and like to explore all genres. I like entertainers masala style.
B: I want to romance lot of women (laughs). In the film also my love interest is hardly there… So now I am hoping to do a romantic film now.
I can see the chemistry between you two…
P: Well we are made for each other (laughs). We have by mistake found girls for ourselves.
B: It's too late now to express our love for each other! (both crack up).
If you had to give a message to the politicians of today?
P: Every time before you go to sleep have a thought about your country because you have taken that responsibility.
B: Make few promises and deliver them. I would also like to tell the people of our country to stand up and vote. If you can't give up 15 minutes of your time to go and vote, you have lost your right to complain.
If you had to float a political party what would you call it?
B: I would promote my friend Jackky Bhagnani's film and call it Youngistaan. He's a childhood friend of mine. Brotherhood is the theme. Jackky's film and ours are releasing on the same day but he has been praising me to the skies. I also know Harman and I know he has been praising me too.
P: Then I would float a political party called Dishkiyaoon.
When was the last time you fooled someone?
B: I'm naughty by nature, so all the time… I sent messages to some girls asking them to meet me from Pulkit's phone so they enthusiastically responded in the affirmative.
P: I do the same. He's always very eager to take off his shirt so I get him to do that at the most embarrassing times like at a radio station recently.
Name in the order of best actor – Aamir, Salman, Shahrukh, Hrithik and Akshay.
P: Aamir, Salman bhai… How do I judge the rest ya? Lagao vaat tum bhi (looks at Bilal).
B: I am a big Salman Khan fan so for me everything that he does I love and enjoy. So for me Salman bhai would be the best actor, then Hrithik Roshan, he's phenomenal, Aamir sir for his dedication, Shahrukh sir for his passion and dedication and Akshay Kumar for his Rajiv Bhatia-style dedication.
Name in order of best actress: Katrina, Kareena, Priyanka, Deepika and Sonam.
P: Deepika, Sonam, Katrina, Priyanka and Kareena
B: … I love Alia and Parineeti also…
P: They are not on the list Bilal…
B: Oh achcha… I like them all – I really do but okay then – Priyanka, Deepika, Katrina, Kareena and Sonam.
Who is the actress you would like to romance?
P: Sonam Kapoor. I would love to take her out.
B: Priyanka is on the top of my list as I find her very beautiful, then Deepika, Parineeti and Alia are lovely. There are a lot more (laughs).
If at gun point you were asked to have a gay encounter who would you choose it be with….
B: Bas mera hi naam lena (both laugh)…
P: It will be better with somebody I know quite well so it would have to be Bilal.
B: Yes, and I would reciprocate his actions (laughs).
Varun Dhawan, Siddharth Malhotra or Aditya Roy Kapoor – who has the brightest future and why?
P: Bilal because he has the X factor!
B: Yayyy! Way to go! The O Teri boys are the next bright things that are going to happen! Pulkit has what everybody is dying to get – that charm. His eyes speak for themselves. Girls see him and go 'Oooo Pulku…'
P: Ya? I think I am boring.
B: Pulkit is a smooth operator (grins naughtily).
P: It takes me four times to meet and get to know the person and then I can pataao her. Bilas pataaos her at the first meeting.
B: Nowadays the girls pataao the boys first.
Ranbir or Shahid – The Kapoor you admire.
P: I always wanted a kind of debut that Shahid got in Ishq Vishq. He dances superbly and looks good so I think after a long time that a newcomer was talked about so much. He came with a package. I have admired him since that time. Ranbir again has a great body of work and I just hope I can create a similar or body of work than that.
B: I really like Ranbir Kapoor's acting. He's really good. I like his ease I delivering lines. I am just watching and learning from them and they are both good but I am a RK fan.
The worst film you have seen in the last three years?
P: Bilal you can't say my films, okay.?
B: I think Satya 2. God save me.
P: Yes Satya 2 because it was so different from Satya. Anything that goes wrong in the sequel is disappointing.
If you woke up one morning and found you were Hrithik Roshan, you would…
B: I would do a kickass movie like Krrish. He pulls off those cape films with so much ease.
P: I would convince my father Rakesh Roshan to do films with only Pulkit. Krrish 4 and 5 with me and then Krrish 6 I would ask him to take Bilal.
Name one Bollywood actor who doesn't cheat?
B: Well Emraan Hashmi is one actor who doesn't need to as he's been kissing in all his films!
P: I think we all cheat every day while in front of the camera because we are playing somebody else.
If Sunny Leone made a pass at you, you would…
P: I would NOT tell anybody that it happened.
B: I would NOT let it go! Shaadi toh unki (Sunny Leone) huyi hai meri thodi! (bursts into loud laughter)
Ever hooked up in a public place?
P: Yes, on a plane. It's the first time I am confessing to this. On a flight you have a lot of time so you can build up your chemistry and turbulence helps.
B: You are in the mile high club dude! Good job! Behind this innocent angel face (pointing to Pulkit) is a rockstar.
The first time you got dumped?
P: I was in the fourth standard and had a massive crush on this girl. I would give her blank calls like hundred times and leave notes in her car. I would hound her like Shahrukh did with Juhi in Darr. So I would consider that as my first rejection or being dumped. After that I have usually dumped my girlfriends.
B: I don't dump my girlfriends…
P: He always keeps an option open. He tells them 'It's not working between us right now but we will come back to this later'. I haven't been an a*****e and dumped any of my girlfriends. They love me and I love them too. I love you all — if you girls are reading this now!