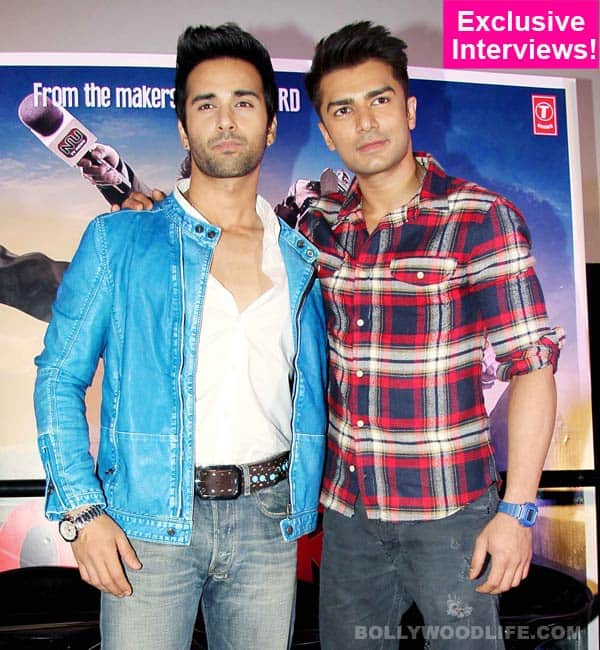 In an exclusive chat with BollywoodLife, the terrific trio of O Teri-actors Pulkit Smrat, Bilal Amrohi and producer Atul Agnihotri spoke about their hatke venture
After enjoying the unquestionable success of Bodyguard, Atul Agnihotri is excited about his forthcoming movie O Teri that has a huge backing from Salman Khan. Starring Pulkit Samrat and Bilal Amrohi in the lead role this movie is basically a satire revolving around two rookie reporters charged with tremendous confidence and incredible passion. The duo is all set to do unearth some shocking scams and to set the country in order with their might as journalists. We caught up with Atul, Pulkit and Bilal on a rather lazy afternoon in Mumbai to know what to expect from their exciting project. Excerpts from the interview…
The poster of O Teri shows a tale of two journalists. Is this reflecting the story of the media?
Atul Agnihotri: Ji haan we are trying to show that media ke haath kaafi lambein hote hain. Pulkit and Bilal play two young TV journalists in this movie. The two are looking for their moment under the sun to arrive and prove themselves. But the two eventually get stories that are not sensational or scandalous so they start unearthing some scams. While doing that they stumble upon a can of worm and the satire unfolds.
So here you are, all set to do an expose stint in the movie. Pulkit is there anything about your life if got exposed can become a sensational news?
Pulkit: Wow now you are scaring me with your question. Ya there are certain things that should remain under the wraps.
Bilal: He was the one who pulled of 2G scam. (laughs) Since that ,incident people have started calling him Pulkit G. He is pulling G strings!
Pulkit and Bilal you two have impressed Salman Khan with your spunk. What does it take to get into Salman's good books?
Bilal: I always believed that I was a part of Salman's family. I don't think I have done any special.
Atul: No, actually he worked as assistant on many movies and that's when you get to interact with stars. Something must have clicked about him that Salman likes.
Pulkit: I think we are lucky to receive his unconditional love. Salman Khan liked me in Bittoo Boss and then in Fukrey. It's a little scary also-lagta hain ke abhi har kaam achcha hona chaiye,"
Atul: Salman always liked Pulkit's work. Salman also went out of his way to promote Bittoo Boss and thought that Pulkit was a genuinely gifted talent.
Salman Khan compared Pulkit with Aamir Khan. What do you have to say about Salman comparing your acting capabilities with that of the megastar. Does that put you into an awkward position Pulkit?
Pulkit: I try not to pay much attention to the good comments that bhai showers upon us. It scares me when bhai compliments him and I don't want to disappoint him. It's the pressure of staying in his good books. It's a responsibility. I must prove myself again and again to prove the faith Salman bhai has in me.
Atul has delivered this huge hit Bodyguard and now he is launching you two. Does that make you feel proud, gifted or does that put more pressure on you as performers?
Pulkit: Oh no pressure. He (Atul) takes all the pressure. We were having fun while shooting for the film. We were like a happy family on the sets.
Atul where did the idea of working with two new young talents come from especially after the success of Bodyguard you could have easily opted to cast established stars?
Atul; I like to keep my life more exciting (laughs) I think the audience has changed today. The kind of movies audiences are accepting and encouraging is because of its content and the subject matter so that allows you to take risk and believe in your ideas. Today it's not about a particular genre that sells for a certain period of time. We have five to six different screens showing different movies. So that allows the audience to take their picks and gives me liberty as a producer to make movies I believe in. Now the whole equation has changed-it is no more about a small film vs good film. I think it has boiled down to a good film vs a bad film. Just like in school, an examiner will not hand over marks to you for your handwriting, you will be awarded with good marks only if your content is right. The same goes for the movies. If your content is right, your film will be accepted.
What qualities do these two have that make them a unit for this one?
Atul; I think they are like chalk and cheese. They are completely opposite in terms of their personalities so there's no question of completion among them and yet they complement each other with their strength and weaknesses. They did workshop together and became friends even before becoming co-actors.
You two danced with Salman Khan for a promotional song. How was that experience?
Bilal: Superb yaar and also there were 100 chicks around us!
Pulkit is a couple of movies old but Bilal this is your first movie. How excited are you for this one?
Bilal: I am hyper excited. When I got to know that I will be working in this one as an actor, since I have worked before as assistant, it was an O Teri moment for me.
Pulkit are you consciously looking for a solo hero film now considering the fact that in Bittoo Boss, Fukrey and now in O Teri you have worked with a bunch of other actors who were equally significant in terms of their star status in the movies?
Pulkit: No I am looking for a film where the story itself is a hero. You know what I mean. You can't become larger than the story. I think I am yet to discover my forte. I think I will give myself another two to three years to understand what my strengths as an actor are and to which genre I am naturally inclined towards. At the moment I must contribute the story and become a significant part of the narrative.
You have worked with the megastar Salman Khan in this film, what were the qualities of bhai that the two of you discovered that the world at large is not aware of?
Bilal: I think it's his ability to read people. He carries the aura of a true superstar off screen as well and he does that effortlessly. His warmth is genuine and he will be the first to put you at ease as a person.
Pulkit: Everybody gets this picture of him being this huge figure. People also say that he has his mood swings and he is very brash. But in reality he only knows how to give without expecting anything in return. Salman Khan is a saint! It's a known fact that he is a rockstar, but in actuality he's a rockstar saint!