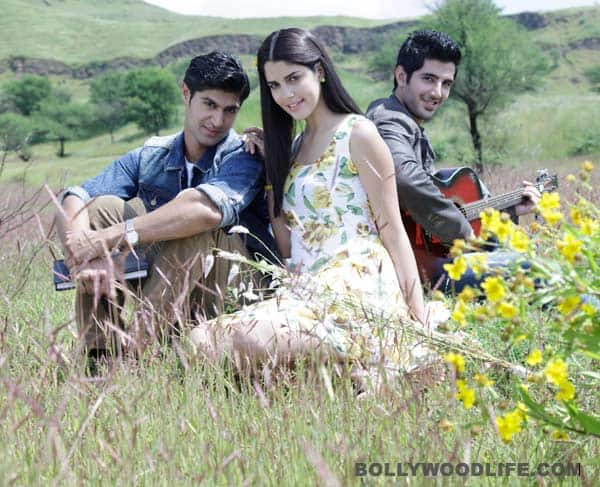 And that holds true even if you are a yippie college goer who loves his romantic tales fluffy and dipped in sugary syrup. Justifying the title this movie is incredibly unoriginal and promisingly sleep-inducing!
Amazingly glossed-over and unbelievably rose-tinted, Tanushri Chattrji Basu's directorial venture Purani Jeans has all the key ingredients of a typical college romance. In fact, so typical are these elements that you wonder if this venture was the result of the difficult-to-contain collective enthusiasm of a bunch of college-goers who made a desperate attempt to get through a film-making school (by creating some disjointed sequences in the name of making a movie, that is). Raw, naive and supremely-unexciting, Purani Jeans tries hard to cash in on the age-old formula of love, dosti and yaari ,but fails spectacularly to catch even an iota of interest from the viewers.
Set in in Kasauli of 1996, the story Purani Jeans revolves around a group of boys…err band of cowboys who like their beer chilled and babes hot! Samuel (Aditya Seal) aka Sam aka stinking rich wannabe rockstar is just back from London to his hometown Kasauli to breath the fresh air, get soaked in the unhurried pace of life and, above all, to reunite with his friends. Sid ( Tanuj Virwani) aka Sidharth aka a brilliant-engineer- cum-a-closeted poet is Sam's best friend.
While Sam is excited to be the next superstar, super-sensation rockstar ( ask how! By flashing his cool accessories like cool chains, his six pack abs and by stealing songs from his best buddy's secret diary) Sid is academically-inclined, introverted and a shaayar at heart who has his sight set on MIT! Life is hunky dory in the clique of cowboys from Kasauli before Nayantara (Izabelle Leite) enters the scene with her porcelain beauty (read: plastic) to trigger off a drama that is laden with emotions like love, betrayal and complications! While both Sid and Sam fall for the perfectly-crafted-for-talcum powder-commercials Nayantara, the real question here is who has found a secure and firm place in the lady's heart?
With a plot as interestingly original as this (pun definitely intended!) Purani Jeans simply grows into a series of clumsy sequences where relationships are complicated, characters are painted in broad strokes and emotions are completely butchered. "Love is the most overrated emotion!" screams our Sammy boy for nothing, you see.
If that's not enough for you to go through this cinematic ordeal, then you have scenes after scenes that look lifted straight out of surreal looking movies like Saawariya, where roses bloom everywhere, where very romantic scenes is enveloped with mysterious fog and guess what-you can even touch those digitally created glow-worms to unleash the romantic in you.
As for the performances Aditya Seal and Tanuj Virani have tried their best to not look stoic and wood-like. But Isabelle serenades in and out of the frame as if she is desperate to be featured in every possible perfume, soap and talcum power advertisement! She is totally cosmetic and doesn't want to howl, scream or cry for her kaajal might get smudged in one melodramatic swift! Rati Agnihotri and Sarika, though cast perfectly, are completely wasted.
All in all this Purani Jeans reeks of the age-old-unmentionable-romantic-disasters that will leave you either nauseating or yawning endlessly!
Rating:
out of 5
Reviewed by Prathamesh Jadhav
* Poor
** Average
*** Good
**** Very good
***** Excellent