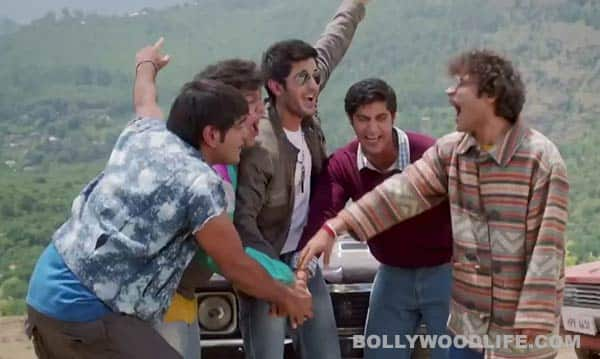 The gamut of boys together pull up a good show but it is the refreshing voice and the lyrics which hooks you on instantly
The makers of Purani Jeans are out with the first song from the film and the song actually justifies the theme of the film. If we recall the trailer, the film is supposedly a tale of friendship between two jigri dosts (Tanuj Virwani and Aditya Seal) and how their friendship gets affected once a girl walks into their lives. The song has been composed  as well as crooned by Ram Sampath quite well. The lyrics by Ashish Pandit have been very aptly written to suit the occasion.
The song is fun-filled and features Param Baidwaan, Kashyap Kapoor and Raghav Kakkad apart from Tanuj and Aditya. The song describes that the bond of friendship is hard to find and is harder to leave but impossible to forget. It tells how friends are forever and ever. The locales where the song has been shot are picturesque but seems to have been seen in a zillion other films. The hill station environment is pretty much over used in Bollywood and this song is no different.
The good part about the song is Ram Sampath's voice and Ashish Pandit's lyrics. The combination of the two bring life to this otherwise dull song. Directed by Tanushri Chattrji Bassu the film also features Izabelle Leite, Sarika, Rati Agnihotri, Manoj Pahwa, Rajit Kapur, Kamini Kaushal and Kashika Chopra. This Eros backed film is produced by Manju Lulla and is all set to release in theatres on May 1, 2014.
Now only time will tell whether this saga of friendship stays only in the songs or gets well portrayed in the film. Keep checking out this space for more updates on the film. So go ahead BollywoodLifers, watch the video and let us know your thoughts.