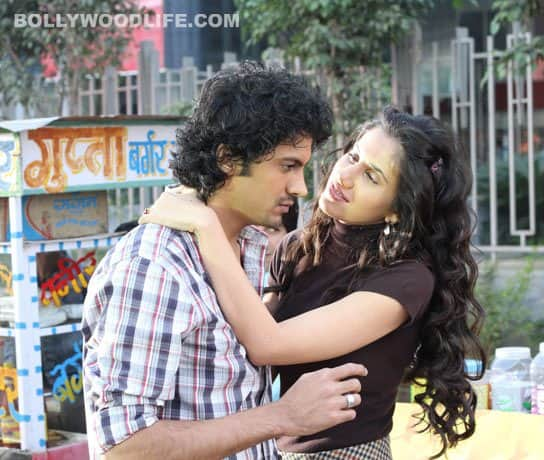 Ranjan has crafted a battle of the sexes meets rites of passage tale that cuts close to the bone, is brutally honest and viciously funny
Women, turn your gentle eyes away now, please. Debutant writer/director Luv Ranjan's Pyaar Ka Punchnama is not for the faint-hearted amongst the fairer sex. Ranjan has crafted a battle of the sexes meets rites of passage tale that cuts close to the bone, is brutally honest and viciously funny.
The film opens with three flatmates and office drudges Vikrant aka Chaudhary (Rayo Bhakhirta), Rajat aka Rajjo (Kartikeya Tiwari) and Nishant aka Liquid (Divyendu Sharma) as they consume beer and parathas at a Delhi dhaba.
The bespectacled, geeky Liquid (who is appropriately enough a code slave) is transformed the moment he opens his mouth. His introductory salvo before the opening credits where he delivers an earthy, colourful diatribe peppered with foul language (all bleeped, of course) on food, women, relationships and the state of mankind in general, sets the tone for the rest of the film.
None of the lads have ever been in a relationship before. This is rectified when Rajat meets Neha (Nushrat Bharucha) and they soon move in together. Chaudhary encounters Riya (Sonalli Sehgal) and they have a strange relationship as she has an intermittent boyfriend already. For Liquid, it's even worse as he falls for work colleague Charu (Ishita Sharma), but she has a long distance boyfriend and treats Liquid like a personal lackey, which he is happy to be.
Through the film, Ranjan portrays all three women as shrewd, manipulative users who will use all their feminine wiles including tears and sex to keep the boys always within reach and on tenterhooks. At this point I am supposed to don my liberal hat and condemn Ranjan for his negative portrayal of women; however, since the said hat is at the dry cleaners, I must applaud him and the producers for having the gumption to make such a film. Besides, in their defence, it must be said that the boys don't fare much better, being shown as emotionally immature people in men's bodies.
The debutant male leads that deliver natural performances immeasurably help the film's cause. Divyendu in particular as an irascible geek who is reduced to a gibbering wreck by the woman he loves is a standout. Rayo smoulders effectively while Kartikeya, who otherwise is mostly playing kitten-whipped, gets to spout a memorable harangue on the sheer one-sidedness of male-female relationships (favouring women obviously).
The film does bear a loose similarity to Madhur Bhandarkar's recent Dil Toh Baccha Hai Ji, but takes it to a far more acutely honest level than that film. Where Ranjan falters is the running time. At a svelte 90 minutes the film would have worked a treat or even at a sprightly two hours. At two and a half hours though, the film buckles under the weight of its own length. The relationship set up and the male wallowing in self pity towards the end could have been trimmed. Nevertheless, it is an enjoyable journey to watch boys who live in a world that is ruled by women.