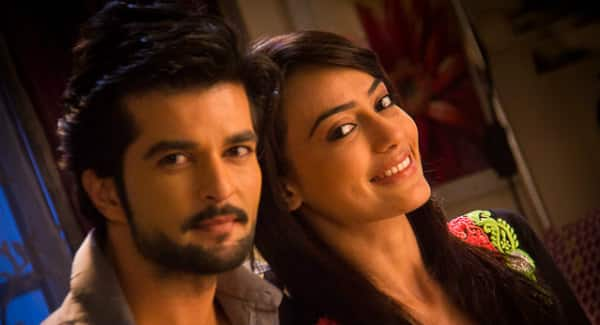 The trend of leaps has finally caught up with Four Lions Films' Qubool Hai and we are not pleased
After replacing Karan Singh Grover with Raqesh Vashisth as Asad Ahmed Khan in Qubool Hai, the show simply lost its magic. While Vashisht cannot be blamed, there couldn't be a perfect replacement for Grover. At least that's what the viewers believed.
KSG fans condemned the channel's decision and hurled abuses at the makers and writers like us for the change in the cast – it's not like we had anything to do with this decision. However, there might just be an increase in hate mails in the coming days. The buzz suggests that Qubool Hai too is planning to take two leaps in the upcoming month.
As per reports the first leap will showcase Asad and Zoya living a blissful life with their three-year-old baby girl. But the happiness will not last long, 'coz the couple will be killed in an accident. The second leap will have Surbhi Jyoti playing the couple's grown up daughter. Something that we have already seen in Madhubala – Ek Ishq Ek Junoon before.
That's not it, the other giant blow to the show is that they will now have to look out for a new lead opposite Surbhi. It's confirmed that Raqesh Vashisth is quitting the show and will not come back to romance Surbhi. The actor wrote on his social networking page that he was glad to be a part of the show until now, but will not continue with it. "The production and channel team of Qubool Hai was very keen to get me on board from day 1. I knew upon signing my work will be for a specific time period. Many would ask why I took the offer to begin with. Firstly, for Gul, I really admired and still admire her and wanted to work with her. As an actor, it's important to work with people your thoughts and wavelength matches and be creatively satisfied. Maybe Gul and I will do something bigger and better in the future. Who knows? Qubool Hai definitely presented challenges in front of me – pressure of replacement, of joining a show in between and its sudden end. But as an actor, I am secure to know that closure of shows is not the end for an actor. TV is in a great space today with various acting opportunities to offer. I cannot limit my hunger to learn or myself out of fear of anything. I'm open to diverse roles and experiments more than ever. I really enjoyed my stint in the show, and I am happy that I could give them their 'Asad' when they needed one. I wish the entire team of Qubool Hai and Zee TV massive success. May the show prosper for everyone just as it has always done."
Several other actors from the show will also be leaving along with Raqesh. Mohit Sehgal who plays Haider is in talks with the makers about the future of his character post the leap. Mumani (Alka Kaushal), Dilshaad (Shalini Kapoor) and Tanveer (Amarpali Gupta) have decided to be loyal and stick around even if they will age onscreen.
Frankly, we think the makers have had a decent and successful run for a long time and may be it's time to bring the curtains down for Qubool Hai. Considering that the show has stood tall with its unique story line and amazing characters, if it decides to continue with run of the mill ideas to sustain, we don't know if they will manage to recreate the same magic? BollywoodLifers, what's your say?