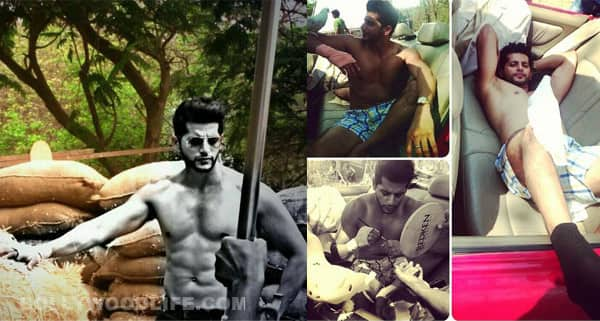 The viewers will soon witness a 20 year leap in Qubool Hai and the makers are planning to make Karanvir's entry in the show to be a memorable one, especially for all the girls out there
As you will already know, Karanvir Bohra has been roped in to romance Surbhi Jyoti's character Sanam in Qubool Hai after the 20 year leap. But what you don't know is that the makers of the show are planning to make Karanvir's introduction scene in the show to be a memorable one.
If the grapevine is to be believed, Karanvir's entry has been shot topless. Yes, you read that right! So Mr Bohra, who will be playing the character Aahil Raza Ibrahim will be seen flaunting those chiseled looks and washboard abs right from his entry in Qubool Hai. Ladies, keep your eyes open.
Karanvir posted a collage of some behind the scene moments on his Instagram account while shooting for the his entry scene. "Its official,mujhe #Quboolhai Qubool hai 🙂 Shooting for my introduction scene.its gonna be worth watching. Never has an opening sequence shot like this. Beautifully executed. Really loving the role. All #Godsgrace," he posted.
That's not all. It seems that Karanvir is happy with the way his character has been sketched out it's quite evident from his Twitter page as well. "3rd day of shoot and I'm loving it. @bombaysunshine love the name too. #AahilRazaIbrahim," the TV actor tweeted.
Anyway, we absolutely can't wait to see the romance between Karanvir and Surbhi. What about you peeps?