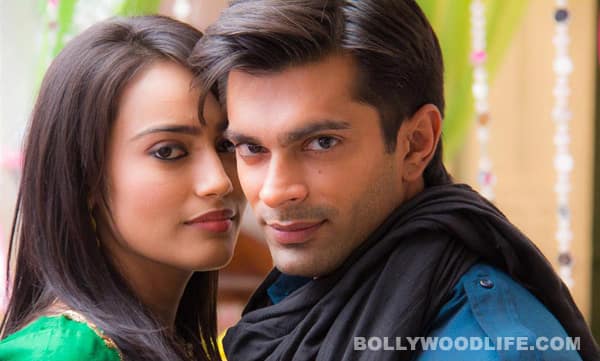 Finally our wish has come true, but we hope Tanveer doesn't burst the bubble too soon
Zoya and Asad of Zee TV's Qubool Hai are in a dilemma about confessing their love for each other.
In the recent episode, we see how Zoya (Surbhi Jyoti) gets elated when she figures out that Mr Khan (Karan Singh Grover) actually wants her to stay back in India; he oragnises a work permit in order to extend her visa. But Tanveer (Amrapali Gupta), who is desperately trying to kick Zoya out of Asad's life, plays spoilsport and ruins it all. She convinces Asad that getting Zoya a ticket to New York is the right thing to do and without using his head or heart, he follows the conniving woman's instructions. Damn!
But Asad soon realises his mistake and tries to rectify it, but the remorse comes a bit too late. In the upcoming episode, immigrant officer Dhurandar Watavdek (Rakesh Bedi) and his assistant Dolly (Juhi Aslam) barge into the house to announce that Zoya's time in India is up, and that she has to pack her bags and leave. Everyone gets upset except Tanveer; Mr Khan is heartbroken.
He tries to appeal to Mr Watavdek, but to no avail. When he realises it's a hopeless situation, he breaks down (ok, not literally) and confesses his love for Zoya. Did Ms Farooqi hear it or did they kiss and tell the whole world – that remains a mystery. But what we do know is that Dolly's heart melts when she hears Asad's confession and she decides to help the poor bloke. She arranges for the required paperwork and signatures to extend Zoya's visa.
Looks like Zoya is not going to go anywhere so soon. She will be a sore thumb in Tanveer's vicious plans and boy we are glad about that one!