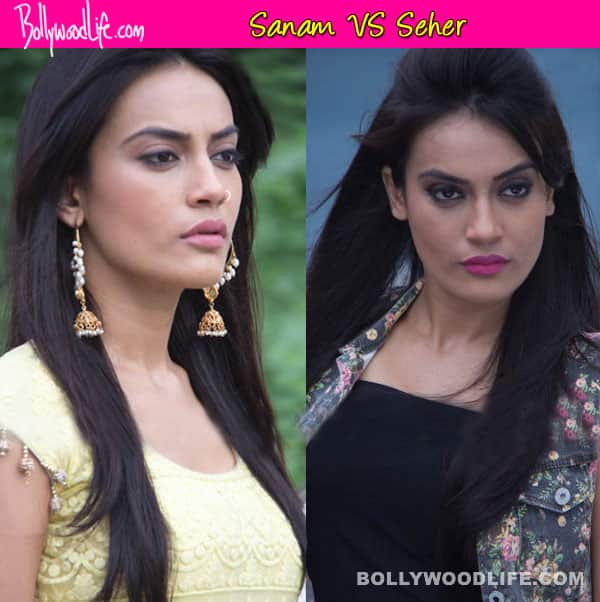 The two characters played by Surbhi are poles apart from each other – precisely what makes it interesting
Asad and Zoya's children separated from each other when they were toddlers. While Sanam was brought up by Dilshaad (Asad's mother); Seher, who was recently introduced on the show grew up around crime and criminals. We found Surbhi Jyoti's characters rather interesting and hatke. So tell us in which avatar do you prefer Surbhi in?
Sanam's character
She is homely and someone who would constantly dream about her prince charming. She is generally hardworking, sweet, caring and kind to others; lessons learnt from her grandmother. Doesn't like engaging in fights, which is so unlike her mother but just like her father. If you remember, Zoya loved to eat but Sanam is a chef and loves to cook instead. Guess the parents' tastes have been passed on to the kids.
Sanam's style
Coming from a humble background, Sanam always just had very little to experiment with. Predominantly, she wears simply but bright suits. However, on her wedding day with Aahil, she wore a heavy lehenga with matching jewellery. Post her wedding, her taste in clothes haven't changed much. She is still seen wearing simple suits – ankle length pants and short kurtas.
Sanam's language
She respects everyone be it someone older or younger than her. Sanam calls everyone 'aap' without being concerned about their position or status. Her language is clean and has a blend of Urdu and Punjabi.
Seher's character
From the little we know Seher is outspoken and street smart. Considering she has lived on her own since childhood with no means whatsoever, anyone would be compelled to be that way. However, Seher is a conwoman and is obsessed with the high-lifestyle. She believes in living one day at a time.
Seher's style
Unlike her twin, Seher is completely western. She looked gorgeous and very hot in the midriff exposing top and fitted pants accentuating her figure. Although we've seen her just once, we are sure there's a lot more for Seher to explore. Among the two looks that Surbhi Jyoti dons, we like her more in the western attire and sometimes in the heavy duty lehengas.
Seher's language
Growing up on the streets in different parts of the country has made the girl crass in terms of her language. This is her first visit to Bhopal, this visit may just enhance her language. But will she transform from the sadakchaap to nawaabi language or not, remains to be seen.
Vote and tell us which character of Surbhi Jyoti do you like more – Sanam or Seher?