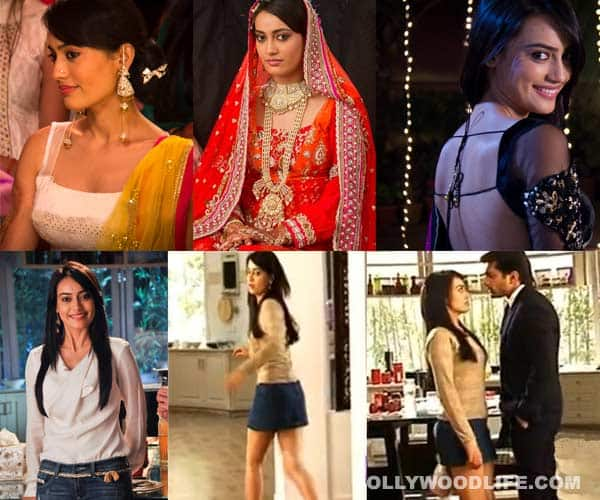 Though she isn't a fashionista, people are still aping her style…We pick up five of her best styles
We believe it's the desperation to keep things simple no matter what the occasion is and we are sure Asad Ahmed Khan (Karan Singh Grover) will agree with us. We picked five of Zoya's (Surbhi Jyoti) best attires on Qubool Hai that we believe were a head turner. Let us know if you agree or not
The first wedding dress: It was a gift from her sister and brother-in-law. Obviously she ran away from the wedding, but the sharara pants were the first attire that Asad saw his Zoya in and felt the connection. We felt it too… Zoya looked like a perfect bride-to-be in the vibrant hues with the intricate embroidery work, laden with heavy jewellery.
Jeans: No matter what they say, we believe comfort comes first just like Zoya. Her favourite pair of blue jeans that she is never tired of is the perfect outfit no matter what the occasion is. However, since she got married we've been seeing very less of it and we miss seeing her flaunt her slender legs in a pair of denims! Don't you? Especially her unique style of using a chain through the belt loops, instead of a common belt.
Backless in a black blouse: With no petrol in the car, Asad and Zoya get stranded in the middle of the road; drenched to their skin; they run inside an empty house. The couple change their clothes and Zoya comes out draped in a pink saree teamed with a backless blouse. That's a first time and just like Asad, we were speechless. She looked oh-so-sexy as she showed off her flawless back while flashing her pearlies.
The short skirt: After spending a lot of time in USA, we assumed Zoya will have some American traits, if not her behaviour then at least the way she looks. When Nazma raids Zoya's cupboard, she discovers a mini denim skirt. Now we don't understand why the damsel was so conscious of wearing it, considering it was her own dress. The short skirt was a definite keeper 'coz she has sexy legs, which deserve to be flaunted, no?
A white dress by Asad: It was one of his first gifts to Zoya – a sleeveless white dress. She hesitated wearing it at first, but after Asad's insistence there was no question about not wearing it. Needless to say, she looked bewitchingly beautiful in the white dress. And remember the gold and diamond earrings she teamed with that outfit? She sure knows how to grab eyeballs, hai na?
Out of these five looks in Qubool Hai, which one do you like the most BollywoodLifers?