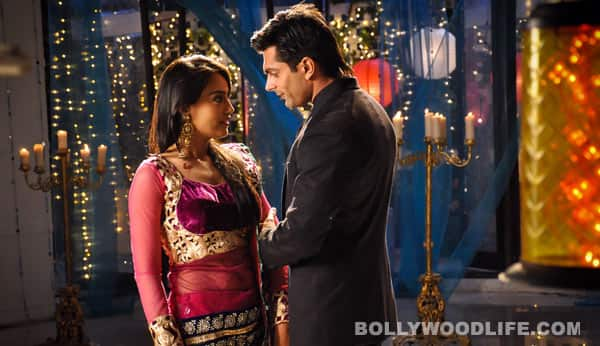 Tanveer's new plan to separate the love birds is a masterstroke
In the last episode of Qubool Hai, Zoya comes back home and agrees to forgive Asad. The entire family gets busy with the wedding preparations, while Asad and Zoya seem lost in each other's thoughts.
Seeing all her plans backfire as Asad and Zoya get ready to marry; Tannu finally plays her pregnancy card. She emotionally blackmails Asad to marry her. Mr Khan, who thinks he is morally doing the right thing, asks Zoya to leave him alone forever and walks off with tears in his eyes. Zoya immediately realises that Tanveer is the only person behind Mr Khan's sudden change of heart. Fed up of her tricks, Zoya threatens Tanveer about revealing everything about her to Asad.
Shocked by our heroine's intentions, Tannu offers her a deal – Asad instead of her father's name and address. Now if you remember, Zoya first came to Bhopal from New York to find her father and his whereabouts. When she learnt that her father is dead, she had almost made up her mind to leave India but her attraction towards Mr Khan made her wait.
In the upcoming episodes, Ms Farooqui will take the deal that Tanveer offered and try her best to let Asad go. Mr Khan on the other hand is feeling miserable about his situation and keeps sulking. His indefinite silence worries his mother Dilshaad, who has decided to never accept Tanveer as her daughter-in-law. If rumours are to be believed, Asad will come to know about Zoya's father and will try to help her. Of course, this will get them closer, but Tanveer will always be around like a sore thumb.
Ideally, family always takes precedence over love, but we wonder if Zoya's sacrifice will bear any fruit at all? What do you think BollywoodLifers?