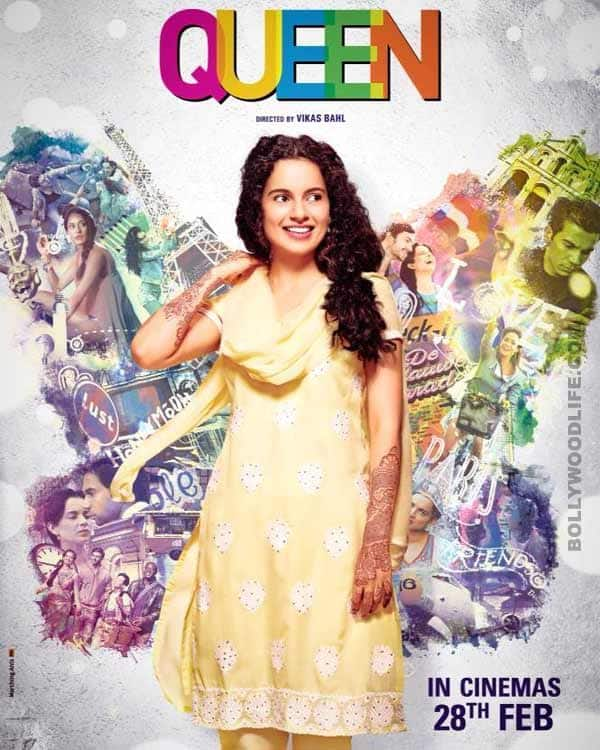 Music: Amit Trivedi
Singers: Labh Janjua, Sonu Kakkar, Neha Kakkar, Shefali Alvares, Nikhil D'Souza, Nandini Srikar, Arijit Singh, Mohan Kannan, Rupesh Kumar Ram and Amit Trivedi
Lyrics: Anvita Dutt
Amit Trivedi treads familiar soundscapes in his first album of the year. Yet not for a second will you feel that the songs are repetitive. He produces a very engaging set and is superbly complemented by beautiful and meaningful lyrics written by Anvita Dutt.
Sung by Labh Janjua, Sonu Kakkar and Neha Kakkar, this song is full of an inherent Punjabi-ness. This is a wedding song and very typical in approach. Amit Trivedi's beautiful beats give the much needed thump to it. Punjabi songs generally have a great market in Bollywood films and this one too has potential to be a big hit. The lyrics are quirky and build up your mood for a wedding. The amalgamation of the music and the lyrics justify the mood of the track. The best part of the song is Labh Janjua exuberant rendition, with Sonu and Neha Kakkar in support.
Badra bahaar
Sung by Amit Trivedi, this number starts with a majestic brass section. The arrangement is most praiseworthy. You will be awed by the deft usage of strings that are very well combined with rock guitar. The combination makes this track special. Amit Trivedi has done a good job behind the mic and the lyrics are also in tandem.
O gujariya
Sung by Shefali Alvares and Nikhil D'Souza, this is a new age party track. Although the song is a very regular party number, there is definitely an Amit Trivedi touch to it. The lyrics are okay, but Shefali's voice makes you cling on till the end. Nikhil has seconded her really well.
Taake jhanke
Sung by Arijit Singh, this track shows the trademark quality of his voice. Every album today tends to have at least one song by Arijit and usually is the best of the lot. Queen is no different, although this would be his first collaboration with Amit Trivedi. This is a superb rock track fully led by the strumming of the guitar. The blending of Anvita Dutt's beautiful lyrics and Arijit's voice makes it a class apart. This song will definitely be in playlists for a long time.
Jugni
Sung by Amit Trivedi, this one gives you a beautiful beginning with superb starting notes. The track takes you on a high with its meaningful lyrics by Anvita Dutt. The arrangement of the music is nice. Various instruments come in one by one and give you that much needed pump up. Amit's vocals are good and go well with the tone of the song.
Harjaiyaan
Sung by Nandini Srikar, this one has a gradual, haunting build up. It starts normally, but by the end of it you feel that it has been a marvellous three minutes spent listening. The song gets you hooked more and more every time you listen to it. The fusion between so many musical instruments is awesome. Not to forget the Bengali folk touch – that makes this track simply superb! Nandini Srikar's singing sensibilities range from brilliant to magnificent. To accompany her talent are apt lyrics. This track is a must keep in your music player.
Kinare
Sung by Mohan Kannan, this might seem to be an extended version of Jugni. But the fusion here is even better. The track is like a jam session between trumpet and sitar. Mohan Kannan is flawless and so are the lyrics, which are very poetic.
Ranjha
Sung by Rupesh Kumar Ram, this song is a simple, short Punjabi piece and has minimal background synth. The débutant singer's voice is heartfelt and comes out even more prominent because of the amazing lyrics.
Verdict: Amit Trivedi and Anvita Dutt together have come up with a very beautiful, meaningful and musical album that is very classy, with ounces of massy appeal. London thumakda is the best track and we know it will become a massive hit. And it's our pick of the Queen album.
Rating:
out of 5
Reviewed by Prateek Sur
* Poor
** Average
*** Good
**** Very good
***** Excellent