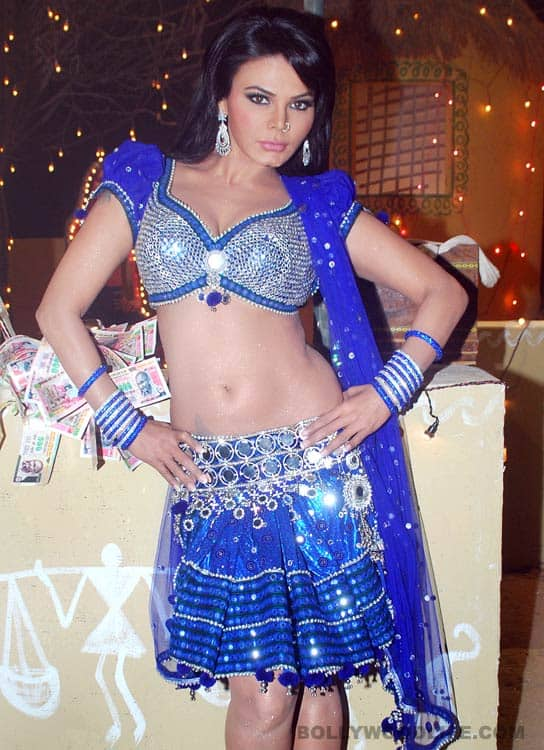 Telly land's favourite controversy queen Rakhi Sawant may be or may not be known for her acting or dancing skills, but we are sure that she will always be famous for the spicy, tangy, sensational statements she makes faster than she blinks her thickly mascaraed eyes. Here's a quick read through the lines she entertained us with last year…
Imagine waking up day after day to same old diplomatic stance and humdrum statements from our favourite B-towners. We don't know about you, but we would definitely be bored to death with that dull, bland existence. So we'd like to thank blabbermouth item babe Rakhi Sawant for making those sometimes shocking, often hilarious and always ridiculous statements to make our lives more zingy. Even though the girl with verbal diarrhea does it to attract attention, we love her chutzpah for making quotes that will go down history as the most entertaining ever!
"Mahesh Bhatt is signing Sunny Leone for Jism 2 only for her nudity. After all, it makes things easier for the filmmaker. In any case, he makes his heroines shed clothes, so it will make things easy for him because Sunny has already shed her clothes long back!" – When she heard that Mahesh Bhatt had signed porn star Sunny Leone for Jism 2 after her eviction from Bigg Boss 5.
"Aamir Khan and I are similar. Neither of us has ever got an award, but then we have got credit from our audiences." – At an awards show, when she was asked what she thought of awards.
"It seems Katrina really likes me – in Chikni Chameli, she is again following me…." – In an interview when she was asked to give her views on Katrina Kaif's Chikni Chameli.
"I'm sure Swami Ramdev will lose his virginity when he comes face-to-face with my adaayein." – This was Rakhi's reaction to Baba Ramdev when he called her marriage proposal indecent.
"I wanna wear the same kind of C String panty during the show which American reality TV star Kim Kardashian wore in one of her shows. It doesn't have strings and it's a very brave act to wear it." – During the launch event of her TV show Gajab Prem Ki Ajab Kahaaniya
"All thеѕе people – thе Sheilas аnd thе Munnis – аrе аll paani kum chai (insipid). I аm аnd wіll always bе thе original item girl." – At an event when she was asked about the rising trend of top leading ladies doing item numbers.
"If Kangna is so publicity hungry, she should have kissed Mika for the song (Jugni) and become famous. Why resort to talking about Rakhi Sawant to gain mileage?" – When Kangna said in an interview that she wasn't Rakhi Sawant to kiss singer Mika.
"I fail to understand as to why no one has offered me roles like the ones offered to the legendary actor Smita Patil." – In an interview during the shoot of Buddha Mar Gaya she said she wanted to move away from item songs and concentrate on acting.