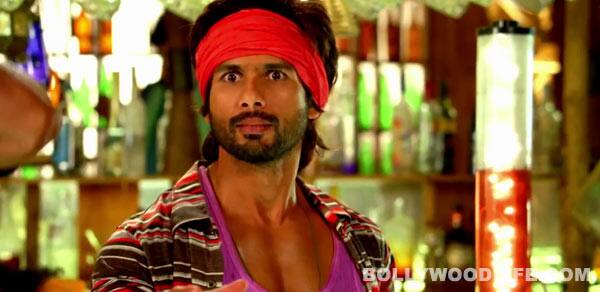 The Kapoor lad can heave a sigh of relief as his latest film has managed to get a good start at the box office. Though it's too early to predict whether the film will enter Rs 100 crore club, director Prabhu Dheva should be happy that his success streak has continued with the Shahid-Sonakshi starrer…
R…Rajkumar starring Shahid Kapoor and Sonakshi Sinha has got cash registers ringing at least at single screen theatres. The movie may well go on to change Sasha's box office status which hasn't been very flattering for a long a time. According to Boxofficeindia, "R… Rajkumar had good opening day collections of around Rs 8.75-9 crore as per early estimates. The film collected very well in some circuits like Mumbai, CP Berar, CI, Rajasthan, Bihar and Nizam while some like Delhi/UP, East Punjab and Mysore under performed. The collections in single screens were excellent and far far ahead of any Shahid Kapoor starrer. The overall opening is also the highest for any Shahid Kapoor starrer beating the Rs 6.75 crore of Mausam released in 2011."
While Prabhu Dheva's action film is ruling at the single screens, the case isn't same at multiplexes. But a decent opening weekend does call for celebrations considering Shahid's dry run at the box office before R…Rajkumar released. "If you measure them against the performance of Shahid Kapoor's previous films, the collections of R…Rajkumar should give Eros & Prabhu Dheva a reason to throw a bash to celebrate right away! The film has opened fairly at the single screens all over but has unfortunately been deprived of a significant audience at the multiplexes. Going by the response to the film and the business, the film should comfortably become Shahid's highest grosser till date" says exhibitor-distributor Akshaye Rathi.
Though the Shahid- Sonakshi starrer has received lukewarm response from the critics, it hasn't affected its box office collections. So, will the audience continue to go to theatres and watch the film? "With due respect to critics, the opinion of an individual doesn't have to be the same as the public's in every case. If someone hasn't liked it, he is entitled to his opinion, but that cannot change the fortunes of a film" points out Rathi.
With R…Rajkumar having a decent opening weekend, looks like Shahid is finally back in the race. How far he and his film will go is yet to be seen, but for now, the talented actor can certainly enjoy the initial success of his film.