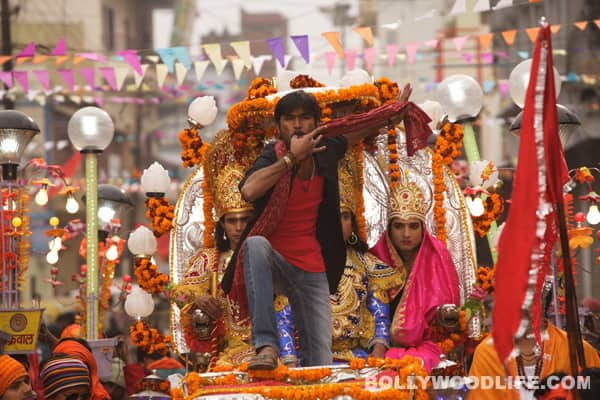 Music: AR Rahman
Lyrics: Irshad Kamil
Singers: Jaswinder Singh, Rashid Ali, Neeti Mohan, Shreya Ghosal, AR Rahman, Rabbi Shergill, Javed Ali, Kirti Sagathia, Pooja AV, Madhushree, Chinmayi, Vaishali and Aanchal Sethi
AR Rahman seems to be back in good form with the soundtrack of Anand L Rai's Raanjhanaa, after the strictly average music of Jab Tak Hain Jaan. The album has eight tracks, each with a distinct folk flavour, since the movie (starring Dhanush, Sonam Kapoor and Abhay Deol) is set in Benares.
The title track is a grand celebration of love, with dholaks, tuntuna and violins. It's a high energy song, but it's the sitar solo before the second stanza that touches your heart.
Banarasiya starts off beautifully with a violin melody and then moves on to a flute tune, creating the perfect setting for a song set in Benares. A semi-classical song, Banarasiya is sung by Shreya Ghoshal. The singer uses loads of harkats and alaaps to decorate this one. It is in the zone of Tere bin from Guru, with the magical instrumentals laced with tabla, flute and sitar.
Piya milenge, sung by Sukhwinder Singh has Sufi elements. Sukhwinder's restrained singing is perfect for the track. It's not a unique composition, but it grows on you with repeated listening. The writing by Irshad Kamil is poetic and fluid: Jisko dhoondhe baher baher, Vo baitha hai bheetar chhupke, Tere ander ek samandar, Kyon dhoondhe tupke tupke, Akal ke parde, Peechhe kar de, Akal ke parde, Peechhe kar de, Ghoonghat ke pat khol re, Tohey piya milenge…
Ay Sakhi, sung by four female singers – Madhushree, Chinmayi, Vaishali and Aanchal Sethi – is a semi-classical composition. It's innocent and sweet, but doesn't leave an impression.
Nazar laye is dreamy, romantic and fluffy. Singers Rashid Ali and Neeti Mohan lend a breezy feeling to it. The lyrics are sweet and simple: Nain hara main, tera sara main, meetha meetha tu, khara khara main. This one's an easily likeable track.
Tu man shudhi reminds you of Dhaka laga buka from Yuva, except that the tempo is notch lower. Singer Rabbi Shergill shines as he does total justice to this song despite it being outside his comfort zone – light compositions and Punjabi flavoured numbers are usually his thing. It's a rocking number.
Aise na dekho is a jazz-flavoured composition similar to what Rahman did with Jaane Tu Ya Jaane Na title track. AR Rahman's soulful singing and a warm tune touch you. The lyrics could have been better – lines like Aise na dekho jaise pehle kabhi dekha nahin sound a bit too ordinary, considering that the composition is above average.
Land of Shiva is an instrumental track composed of heavy beats. The scale is grand and ominous, combining temple bell sounds, dhol and conch.
Tum tak tum tak is quite a mushy number speaking of a person who is obsessed with his lover. Javed Ali sings with a lot of love and passion. The shehnai and tabla combination gives this love song a spiritual touch.
All the songs leave you in a celebratory mood – the album celebrates love and passion. The soundtrack as a whole is not one of AR Rahman's best works, but it's still quintessential Rahman. Raanjhanaa has its heart in the right place. Welcome back, AR!
Rating:
out of 5
Reviewed by Suparna Thombare
* Poor
** Average
*** Good
**** Very good
***** Excellent