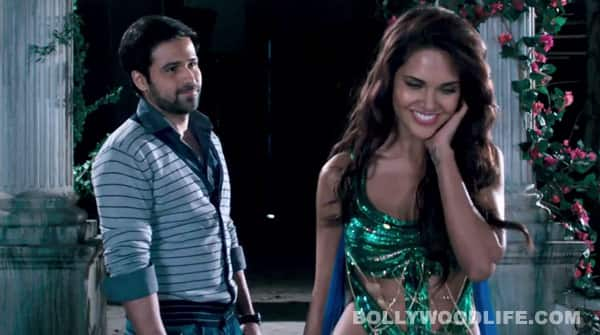 Music: Jeet Ganguly
Lyrics: Sanjay Masoomm and Kumaar
Singers: Javed Ali, Shafqat Amanat Ali, Shreya Ghosal, KK, Sonu Nigam, Zubeen Garag
Rating: **
The music of this Vikram Bhatt film is very average
Yes, we do expect the music of a Bhatt film to be good – copied, but melodious. Deewana kar raha hai is lifted from an Arabic song (again!). We know that the Bhatts love to borrow from East European, Arabic and Pakistani works, no matter which music director they hire. Apart from being copied, the song is also mediocre. It could have been a track from any Emraan Hashmi film. Javed Ali sounds good, but there's only that much he can do to make this one sound original and interesting, right?
Rafta rafta is a little better, and has better recall value than Deewana kar raha hai. But it's still quite a regular tune and there is nothing interesting in terms of the use of instruments either, except for a tiny flute and guitar portion. KK has sung way better songs than this one. These kinds of angsty numbers are a trademark of the Emraan Hashmi-Bhatt partnership, but it's becoming just plain boring now.
And if you thought that this was the last of the trademark numbers on this album – no, it isn't! Shafqat Amanat Ali's Zindagi se is up next. While wondering which Jannat or Awaarapan song it sounds like, and why the lyrics seem so familiar, I must admit I got hooked to the easy-on-the-ears melody. It was refreshing to hear Shafqat sing a number that is slightly different from what he has been singing in Hindi movies. It's a number you'll hum, irrespective of whether you like it or not. In my case, I didn't like it!
Khayalon mein sounds different as compared to the other numbers on this soundtrack, but again it's steeped in cliché – from the beats and tunes to the lyrics. Kya raaz hai aims to create a mysterious atmosphere, and the energy is quite good. But the marhaba portion of the mukhda reminds you of songs like Door se paas from Musafir, sans the zing! The folk singing by Shreya Ghoshal before the second antara is slightly more interesting.
Oh my love is the only duet in this album. The love song has lines like Meri rahein tu, chahein tu, tu dua, Oh My Love, tu hai sukoon. Can the lyrics get more blah? The tune though is sweet, and Sonu Nigam and Shreya Ghoshal bring romance in through their voices. The electric guitars and keyboards lend good support.
After having heard all the recent albums from the Bhatt camp – like Murder 2, Raaz 2, Jannat 2, Jism 2 et al – Raaz 3 makes you feel blasé indifference. And after listening to the adorable music of Shirin Farhad Ki Toh Nikal Padi, composed by Jeet Ganguly, this soundtrack is very simply put, boring!