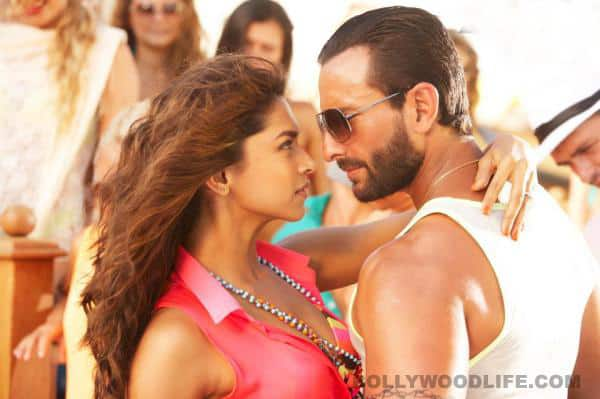 Abbas-Mustan's action thriller takes you through a zillion desperate twists and unnecessary turns
Race 2 is the story of two men – the billionaire Arman Malik (John Abraham) who loves to show off his bulked up body and Ranveer Singh (Saif Ali Khan) who loves to flaunt his newly botoxed cheeks. While Arman is after money, Ranveer is out to seek revenge for the murder of his wife. Arman's sister Elena (Deepika Padukone) and girlfriend Omisha (Jacqueline Fernandez) too get involved in the one-upmanship game and they shift sides faster than a chameleon changes its colour. Robert D'Costa (Anil Kapoor) sticks to his role from the first part and continues to make fruit salad, while his assistant Cherry (Ameesha Patel) tries to seduce him at every given chance. Add to that a few unnecessary dance numbers, some witty-sounding dialogues, Anil Kapoor's PJs and a few slick dhishoom dhishoom scenes and the plot is ready!
After about 157 twists and 129 turns, the film comes to an end leaving you with one question: What was the race all about? After a lot of deliberation, I came up with the answer. Anil Kapoor and Ameesha Patel compete to prove who comes across as sillier. John Abraham and Saif Ali Khan are out to prove who is worse at dancing. Deepika Padukone and Jacqueline Fernandez are in a race to prove who can show more leg and cleavage, and who can pout and pose better than the other. John, Saif, Anil, Jacqueline, Ameesha and Deepika are all out to stake their claim on the film by competing about who says the title of the film Race the most number of times!
Well, even though we are partly satisfied that we finally managed to deduce what Race 2 is all about, there are still a lot of things we just couldn't digest:
1) Saif Ali Khan is more skilled than James Bond. He is an expert at archery, fencing, speedboat riding, driving and gambling.
2) After travelling half the world in Agent Vinod, which turned out to be a damp squib, Saif again chooses to continue travelling across Cyprus and Istanbul in this one. Isn't there something called as learning from mistakes?
3) Anil Kapoor and Ameesha's creepy sexual innuendoes about fruits – from mangos and bananas to fresh fruit juices! Ewww!
4) Deepika Padukone looks absolutely gorgeous in those high heels and expensive branded outfits, but what's up with the stone-faced expression throughout? Is this the same actor who surprised us with a powerful performance in Cocktail?
In the first edition of Race, the twists kept us hooked and interested, so in Race 2, we obviously expected more and better twists. Director duo Abbas-Mustan do try (and desperately) to give us more than a handful, but keeping up with them is labourious. One is bound to lose the plot (just like directors did!) in the process. Entertaining in parts, Race 2 is all about exotic locales, good looking men, hot skimpily-clad chicks, action and games. What's wrong with that, right? Well, it lets you down in many departments – the direction is messy and so is the plot, the screenplay is rushed up and the special effects are definitely not up to the mark. And most importantly, it's not a sequel, but a rehash of the first part.
Race 2, with its twists and turns, is like one of those terrible roller-coaster rides that leave you nauseated and sick by the end of it!
Rating:
out of 5
Reviewed by Suparna Thombare
* Poor
** Average
*** Good
**** Very good
***** Excellent