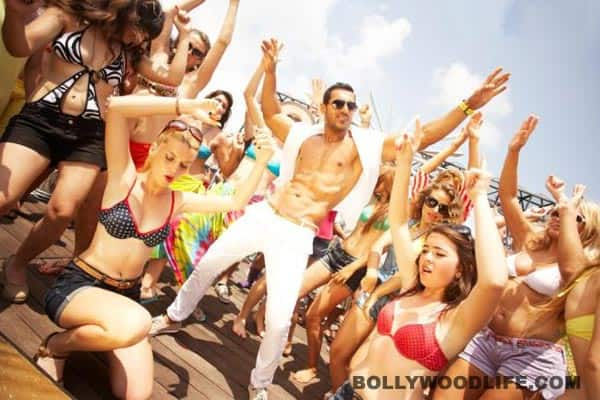 Music: Pritam Chakraborty
Lyrics: Prashant Ingole, Yo Yo Honey Singh and Mayur Puri
Singers: Atif Aslam, Sunidhi Chauhan, Benny Dayal, Shalmali Kholgade, KK, Shefali Alvares, Yo Yo Honey Singh, Vishal Dadlani, Anushka Manchanda, Ritu Pathak and Michie One Singh
The soundtrack of Race was a runaway hit and the expectations from the sequel were inevitably higher, especially since the music director of the thriller series is Pritam Chakraborty.
The album starts with Be Intehaan – the mandatory Atif Aslam romantic number (remember Pehli nazar from the first part?) on this album. The tune sounds fresh and the elements of romance are in place, but Atif has nothing new to offer. It's same old-same old! Sunidhi tries to add her touch, but there's nothing much she can do to overpower the groggy Atif effect. The remix version is even worse!
Party on my mind was released during the party season and was lapped up by partygoers. It's a teeny-bopper pop number that gets stuck in your mind, just like an annoying chucked-out piece of chewing gum. Yo Yo Honey Singh's rap portions are nothing great either. The remix version is amateurish and uncreative.
Lat lag gayi is tailormade for the dance floor, and singer Shalmali Kholgade is in top form, ably supported by Benny Dayal. The high energy of the techno beats and the edgy sound samples make it the best song on the album. This one's literally quite addictive.
Allah duhai is a rehashed version of the original. The attempt was to make it more fast-paced than its earlier counterpart, but apart from the added bass and beats, this track has nothing fresh to offer. The violin portions of the Race theme have been mixed into the track and run through the song, leaving a good effect.
Pritam seems to have raced through this album without giving it any real thought, and perhaps we should do the same. The music and lyrics of Race 2 don't make a lasting impression. So just plug in, dance and forget!
Rating: 2
Rating:
out of 5
Reviewed by Suparna Thombare
* Poor
** Average
*** Good
**** Very good
***** Excellent