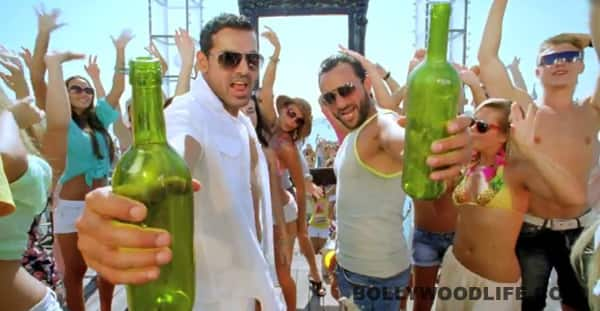 Saif Ali Khan, John Abraham, Deepika Padukone, Jacqueline Fernandes want to party non-stop
Race had a bunch of incredible songs. And we were really looking forward to Race 2 having the same quality of music. But the latest song Party on my mind lets us down a bit.
It is an out and out party song, but with some poorly auto-tuned track. It has the entire cast of the movie dancing like it's the first and the last time they are ever going to get to groove. Saif Ali Khan, with a ton of grease in his hair looks like a garage mechanic, while John Abraham is a bit too left-footed, as he tries to meet the beats but alas, fails.
Deepika Padukone and Jacqueline Fernandes are the two saving graces in the song, and come across as a breath of fresh air. Deepika wears a sassy fluorescent pink bikini dress while Jacqueline wears the same in a shocking lime-fluorescent combo.
Ameesha Patel makes a brief entry with Anil Kapoor who is seen sporting a tux and a rather stylish walking stick. While Anil is seen jiving with the gang, the camera only lingers briefly on Ameesha.
Composed by Pritam, the song is nothing special, and has some rather poor lyrics. Nothing as compared to the songs in the first movie, and not too great as a standalone either. Party on my mind is a half-hearted effort in a franchisee known for delivering some quality tunes.