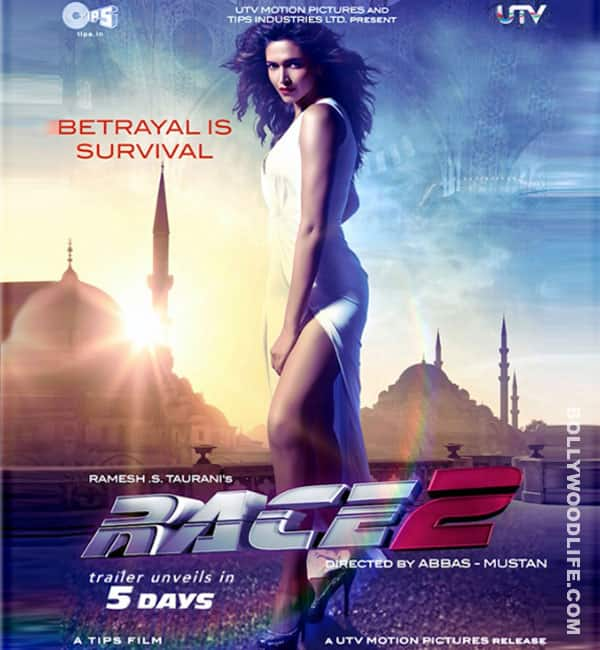 The upcoming action-thriller seems packed full of sensationally sensuous stuff – and boy, are we looking forward to it!
The second digital poster of the upcoming multi-starrer Race was released today; this one features Deepika Padukone pouting like a million bucks, posing against the sunlit backdrop of Istanbul, where a large part of the movie was shot. Race 2, which is the second installment of the successful action-suspense thriller, boasts of an impressive cast including Saif Ali Khan, John Abraham, Anil Kapoor, Jacqueline Fernandez, Deepika Padukone and Ameesha Patel.
Incidentally Deepika, who is one of the first cast members to make it to the posters of the film, had actually dropped out of the project last year. She did so prompted by a continuously wavering schedule of Race 2, and her departure didn't go down well at all with the rest of the cast. Almost the entire group of stars, including male leads Saif and John, gave her the cold shoulder at David Dhawan's son Rohit Dhawan's wedding. But good sense – and a bit of negotiation and soothing – prevailed on Dips' part and she kissed and made up with the producers and continued the shoot.
So all seems well now and the film that is set to release in Jan 2012 will be promoted by all the actors involved. Well, we understand why Dips wanted out of Race 2, especially with majorly hot actors like Jacqueline and Amisha pouting pretty besides her! But worry not, Dippy, for us you stand tall among the other super-hotties!