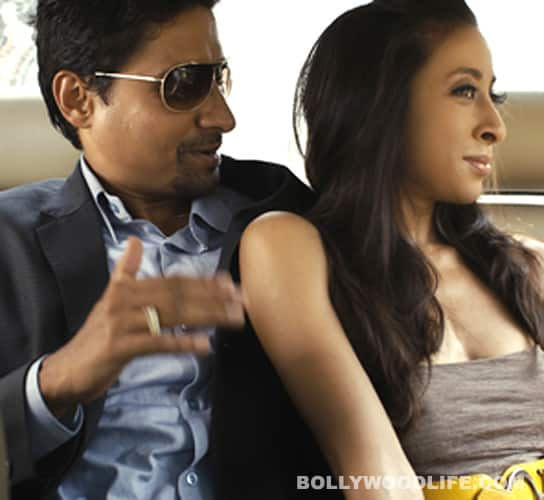 Photographer Rafeeq Ellias dons the director's hat and enters the world of feature films this week with the release of his first movie, Love You To Death
An addition to the new crop of directors, Ellias insists that there's nothing called a 'mindless film', which is why we think he's had no qualms in coming up with a Hinglish comedy flick that's nothing less than a roller-coaster ride between Chandan Roy Sanyal and Yuki Ellias- the protagonists. A tête-à-tête with the calm and composed Rafeeq takes us through the creative journey he has embarked on and helps us get a fresh insight into the cluttered place we call Bollywood…
Tell us something about your first feature film…
We don't have stars, we have actors in LYTD. My daughter Yuki, who stars in the film, has studied theatre in Paris for two years. Also, I've known Chandan (Roy Sanyal) for years now. I really like him as an actor. I think this guy is made for cinema. He has outstanding comic timing. There's a Woody Allen and Charlie Chaplin in him at the same time. This movie is like a tabloid you read every morning, where ordinary people do extraordinary things. And extraordinary not in good ways (laughs), but the movie is extremely light-hearted and funny.
What are the challenges you faced while directing Love You To Death, considering you're new to this industry?
When I started talking to people, nobody was interested in reading the script, everybody wanted to know who's starring in the film. Everything was a challenge, because it's one thing to shoot stills and another to make a feature film. Also, when you make a feature film, you are creating a whole scenario and that's the challenging part. No matter how much I calculated and estimated the complexity, I thought this would turn out to be a highly compact film, but it turned out to be one of considerable scale. We shot a scene in the heart of the city at Horniman Circle at night where our lead couple are driving in the car and three people come on a motorbike and attack the car. So we smash the windscreens, we shoot with multiple and high speed cameras to capture the glass breaking. Securing permissions, logistics and the size of the crew were things that I really had a tough time managing…
How much has your photography experience helped you in making this film?
Enormously – as a still photographer, you really care about the frame. It always excited me to become a movie cameraman. I think cinematography takes your still photography skills to another level.
So did you enjoy the madness behind filmmaking?
Oh yes,  it's seemingly crazy and chaotic, but within that chaos there is a method and if that method is not there, you are sure to bust up tons of money. It's like an industry on the move. The technological change enables to access a lot more than we ever could and I think it's a fantastic time to make films.
What kinds of stories inspire you?
I go through different phases .There was a time I was way too serious. These are times when I prefer to be light-hearted and I think being light-hearted with an undercurrent of seriousness works much better for me.
Photography, filmmaking…what next?
More films and still more films. Time is running out for me!