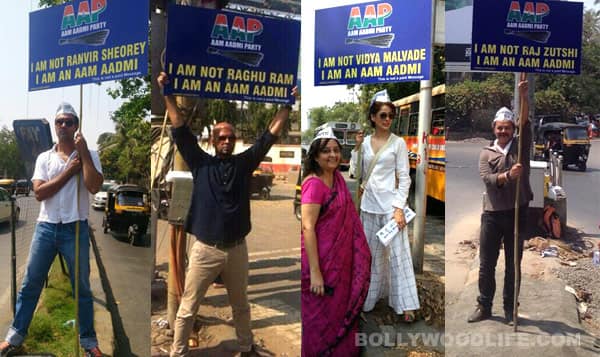 A host of TV and films celebs support their favourite parties to garner votes. Read on to know who is supporting whom
A plethora of celebrities from the television and the film world have hit the streets to support the Aam Aadmi Party (AAP). Earlier we had seen a number of celebrities support the party by participating in elections for them like Jaspinder Narula, Gul Panag, Javed Jafri among others. Now a host of celebs have been pledging their support as aam aadmi supporters.
Well known people from the entertainment world like Raghu Ram, Vidya Malavde, Ranvir Shorey, Rajendranath Zutshi, Rajesh Khera, Anubhav Sinha, Tejaswini Kolhapure along with many others posed as a human hoardings and promoted the party motto in a unique way. Raghu Ram, the maker of reality show Roadies had mentioned on his hoarding, "I am not Raghu Ram, I am an Aam Aadmi." Similarly even Ranvir Shorey was seen holding a hoarding near Tulip Star, Juhu with "I am not Ranvir Shorey, I am an Aam Aadmi" written on it.
It's interesting to see how so many celebs have taken up as role models for elections 2014 and are not only supporting their favourite party but are also urging voters to vote for these elections. Arjun Kapoor had recently said that voting is not only a responsibility but our duty as well. He has urged everyone to go out and vote for their ideal candidate.
Not just AAP but other parties also have their set of celebrity supporters. Where director Madhur Bhadarkar recently praised Narendra Modi on Twitter, Bhojpuri superstar Ravi Kishan has shown his support to Congress by contesting elections for them for the first time from Jaunpur constituency in Uttar Pradesh. We will wait until the results are announced on May 16, to know if these celebrities have been able to create an impact on their fans or not.
Bollywoodlifers, you tell us – will these celebrities be able to garner vote for their respective parties?