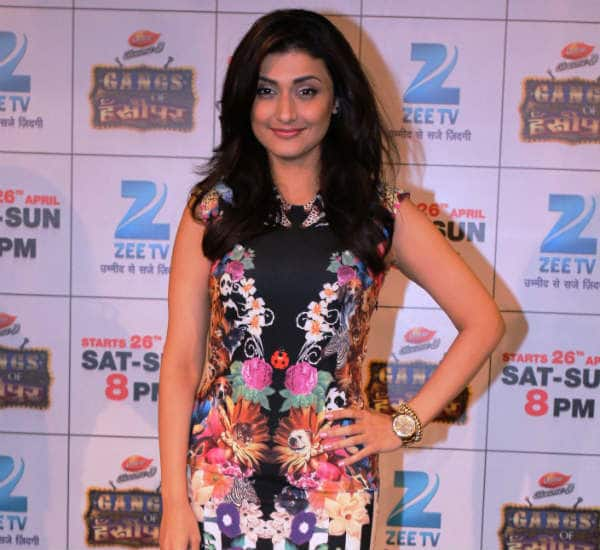 In an exclusive chat, telly world's cutest bahu popularly known as Suhana (Sasural Genda Phool) talks about her big break after working continuously for five years on TV shows, movies, award shows and events. She talks about what tickles her funny bone, her addiction to stay healthy, her new show Gangs of Hasseepur and the competition…
It's a wonder how Ragini Khanna manages to string two sentences between her endless giggles. The forever smiling actor can make any situation fun with her comic antics and witty lines. The commitment phobic Ragini says that she is finally living her life and wants to take things as slowly as she can and we agree. Ragini opens up to us at her candid best!
Do you think you've finally become a star now?
(Puzzled look) Do you think so? 'Coz I definitely do not think I am a star yet. I feel I have just begun. I feel more like a struggler in my head than when I started my career. In fact, when I started working, I was cockily confident and over dramatic.
You have been on a long break from fiction shows. What have you been doing all this while?
I was just chilling and living my life. In the past five years, I did not sleep properly for a day. I did not have a life, couldn't spend time with my family. It was the fear of getting burned out; I decided to pull myself out. In order to make a living, I had almost stopped living my life.
How did you bag Gangs of Hasseepur?
I was called for it. I heard the concept and liked the concept. So said yes and here I am. I agreed to do this show 'coz it gives a very strong message. It tells people to go and vote 'coz we are the only ones who can change anything about the country. At the end of every episode, I say 'apni ungli ka sahi isthamaal kare' (Use your finger for the right thing)
Are you ready for the competition and criticism that comes with comedy shows nowadays?
I am not worried about that at all. I believe every show finds its audience and space. I am not trying to compete with anybody and neither is GOH. It's for stipulated time – eight weeks. The show is a 16 episode series. It is a seasonal show. I don't think there is anything like this on any other channel apart from the news channels.
So how similar or different is this to shows like Comedy Nights with Kapil or Mad in India?
Gangs of Hasseepur is not competing with any other show neither is it copying anyone. First of all, our time slot is 8 pm, which is a different time slot compared to other shows. As a comedian, I can't become Gutthi, Manish Paul or Kapil Sharma. I cannot be someone I am not. I am happy being myself and what I am doing. Nonetheless, I am a big Kapil fan. I admire his talent to make people laugh since Comedy Circus days. But that doesn't make me want to be like him. I respect him. GOH is satirical comedy show based on current affairs and what is happening in the country. Right now the show will focus on the elections and base our humour on that. It will change as time changes in the country.
Are you okay with being the butt of jokes on national television?
I love it. My sense of humour belongs to the school of thought that says you better make fun of yourself than anyone else. I do not like bringing people down. I don't like bringing up someone's weakness. I personally prefer situational humour and something which is not targeted at people 'coz emotions get hurt and I don't like hurting people. I appreciate it when people make fun of me…
How politically aware are you?
Not a lot but yes, I voted for my candidate during this election.
Will there be a lot of double meaning jokes in this comedy show like all the others on air currently?
Let me tell you, yes there could be double meaning jokes but there is nothing to worry about. 'Coz kids watching these shows are way forward than we are. Even if you tried, you cannot hide anything from children. Anyway kids these days are hardly kids. The reason for that is the exposure to global internet and television which has made them smarter than our generation. They are automatically drawn to things you hide from them. As a child, my mother never hid anything from me. I am a very domesticated child. I believe when I will have kids, I'd rather be the one giving him or her all the information other than them getting the wrong information from outside. I will give them the right thought process, on how to respect women, how to behave in the society and things like that. This show is just for fun.
Have you bonded with anyone on sets so far?
I have worked with Bharti Singh before, other than that I do not know anyone personally. The entire team of GOH is nice and absolutely professional.
When do you plan to get married?
OMG! Are you not happy seeing me happy?
Why are you not signing any daily soaps?
I want to do daily soaps, but look at the types of serials coming out these days. That's reason enough to not take up anything. I get fiction show offers every day and I am truly blessed for that. Name the show, and it has been offered to me. I am not being cocky, but I am just honest. My mom says I am stupid coz I keep on rejecting so many shows.
What kind of characters do you look for in fiction shows?
See that's the problem. I do not know what I am looking for. I was offered Bhaskar Bharti and Suhana – both characters I never thought I could pull off. Plus I believe I have now become commitment phobic. I like shows with specific end timing 'coz dragging content is very boring.
What do you find more difficult – acting or anchoring?
Anchoring definitely. I love acting, I am ready to take any measures to get into the skin of the character and I enjoy the process. I love learning about my characters and thinking about how they eat, sleep, look dress, talk, and more. But hosting is very spontaneous and you have to crack it at the right moment or you will lose the punch. As an anchor, you have to collectively hold everything together, streamline it, process it, say what the judges and contestants are saying and then present it to the audience. It's too hectic.
What else are you doing at the moment?
I have just shot for a film, but I cannot talk about it. The movie will release in the next two to three months.