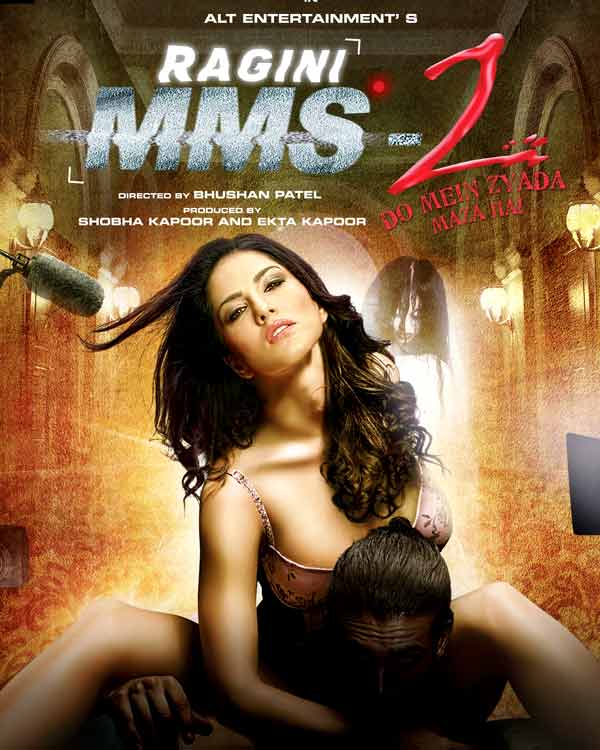 Finally Ekta Kapoor's much-talked about horrex film Ragini MMS 2 has hit the theatres. Surprisingly, the film isn't that bad, has quite a few spine chilling moments and most importantly it's not a wannabe porn flick
Director Bhushan Patel and Ekta Kapoor have played well with Sunny Leone's sex appeal in their latest offering Ragini MMS 2 which is the sequel to 2011's Ragini MMS. Yes, it's a skin show fest but at the same time the makers have stuck to the horror genre and given us a film which isn't slam-it-then-and-there types. Starring Sunny Leone in the lead, Ragini MMS 2 takes off from where its prequel ended. Kainaz Motivala, who played Ragini in the original film, ends up in a mental asylum and Pravin Dabas is the director who decides to make a film on the infamous Ragini MMS episode. And Sunny is of course the heroine of Pravin's film. The first half was a bit boring at least for me coz when I watch a horror flick I want it to start with a bang. That's how the mood really sets for a spooky film, hai na? But then I am someone who loves horror genre and therefore expects a bit too much. But let's keep that aside and come back to the movie review, before the interval there is hardly anything that will scare the shit out of you. But comic punches, few intimate scenes and Sunny walking around the haunted house in her undies and ganji will certainly keep you glued to the screens. I am sure at least the guys would love it!
It's the second half where the story unfolds and Sunny turns from a sexy starlet to a possessed girl who is on a killing spree. There are few hair raising scenes post interval, the background story is surprisingly quite solid and actually makes sense. But what's funny is that the whole mystery about Ragini (Kainaz) acting like a lunatic is solved by a maid. Yes, you heard that right. How this all happens, well, you'll have to watch the film for that.
What's good about the film?
Ragini MMS 2 has both erotica and horror elements which somehow blend well. The second half of the story is gripping and though I would have liked the first half to be the same, the comic punches and bizarre liners did manage to tickle my funny bone. So I am not going to complain much about it. Obviously, I can't afford to coz the Baby doll song and Yo Yo Honey Singh's special number Char bottle vodka actually make up for all the loopholes in the script. Parvin Dabas as a horny director fits the bill well and Karan Mehra plays his part of a television star who is full of himself quite well. Lastly, the climax of Ragini MMS 2 doesn't fall flat. Yes, it reminded me of quite a few Hollywood films but director Bhushan Patel has carved the ending in his own way which is nice.
What's bad about the film?
The first half could have been much much better. Actors like Sandhya Mridul, Divya Dutta and Anita Hassanandani have been wasted. Sunny has improved a tad bit as far as acting is concerned but she certainly needs to hone her skills and learn to emote if she wants to make it big in Bollywood. Also, the background score fails to induce any fear in you. And yes, the makers have relied too much on the sound effects to scare you.
Verdict: We are sure all Sunny Leone fans are going to throng the theatres irrespective of what we say. So this is for the rest of you – if you want to get entertained and aren't looking out for a meaningful cinematic experience, then you can indeed watch this one but not with your family.
PS: Watch out for the scene where Sunny fakes an orgasm. It's hilarious!
Rating:
out of 5
Reviewed by Namrata Thakker
* Poor
** Average
*** Good
**** Very good
***** Excellent