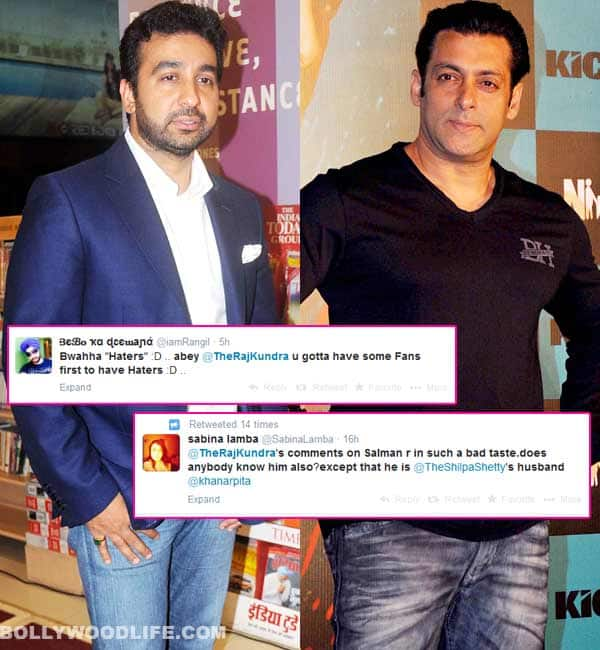 Shilpa Shetty's husband comes under attack for his statement on Salman
Raj Kundra came under attack on social media from Salman Khan fans over his statement to a publication where he was quoted saying, "The amount Salman Khan earns from one film, I make in a month!." He went to say that what he makes in a month is way higher than even Salman Khan's earnings from films. "That's true. And I don't see any fun in being like him," he was quoted saying.
Talking about his buisness acumen he went on to add, "I can bet Salman doesn't earn that much…well, at least nowhere near me,". After these statements of Raj made headlines, Salman fans took to Twitter to vent their ire against Raj.
Here are some of the reactions from Salman's fans to his comments:
Hey @TheRajKundra This is wat @BeingSalmanKhan is 🙂 U need Heart of gold to give back nd to share 🙂
Raj Kundra is poor man's bill gates
@TheRajKundra you earn plenty of money than what Salman Khan earns but u can't earn the love & respect that he has earned in your lifetime
@TheRajKundra's comments on Salman r in such a bad taste.does anybody know him also?except that he is @TheShilpaShetty's husband
Bwahha "Haters" 😀 .. abey @TheRajKundra u gotta have some Fans first to have Haters 😀
You should just hide behind Shipa Shetty's Pallu @TheRajKundra ! Cut off the arrogance & come back to earth!
However, Kundra took to his socia media account saying he was misquoted and he was a businessman and not an actor. "I'm disappointed at today's journalism, words r twekd frm interviews 4 sellable articles.I'd like to clarify I'm a businessman,not an actor!" Reacting to his comments on earning more than Salman he said, "To all the Senti'Mental' lot out there in a business interview I was asked would I act I said as a businessman i am unaffordable..period!!"