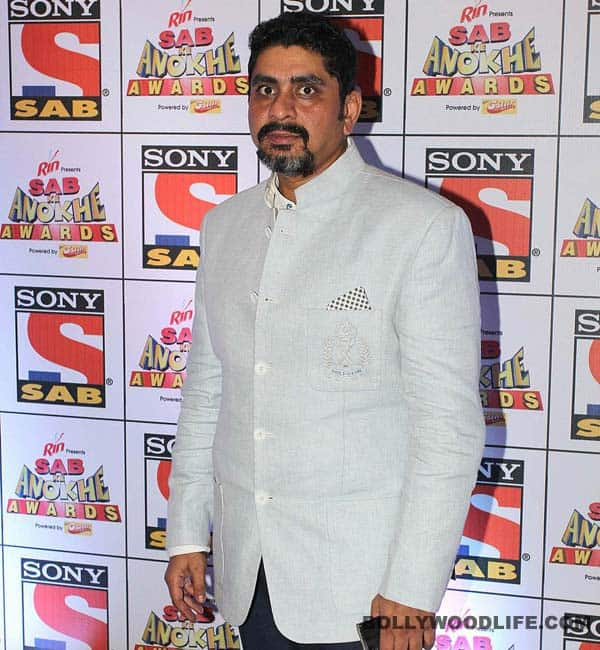 We caught up with the popular producer-director of shows such as Jassi Jaissi Koi Nahin and Yeh Rishta Kya Kehlata Hai to know how Indian television has changed and evolved into a medium that produces a star in almost every second home
In his glorious career of 20 long years, Rajan Shahi has given us delightful shows like Jassi Jaissi Koi Nahin, Miilee, Yeh Rishta Kya Kehlata Hai, Kuch Toh Log Kahenge and many more. For someone who started his career as an associate to the renowned producer-director Ravi Rai, Shahi has come a long way.
Through the years he's risen from a production guy to assistant director to lead director and finally an informed producer. After directing path-breaking popular shows such Jassi…, Shahi launched his own production house that crafted shows like Sapna Babul Ka…Bidaai, Chand Chupa Badal Mein and Yeh Rishta… to name a few. We caught up with him to know his take on the changing face of Indian television and why he thinks that the small screen holds the potential to bring about major changes in the way the entertainment industry functions
You are one of the most respected and renowned director-producers in the industry. How has the business grown in all these years?
After working in the industry for more than two decades, I can now sense that television is bifurcated. It has become a multi-functioning structure. Today, you have reality and fiction coexisting without eating into each other's creative spaces. A reality show today can be beautifully created by using creativity and without losing the essence or the seriousness. Similarly, a fictional show can be based on stark reality in the society.
What has changed for the better?
Television has evolved. A lot of restructuring is happening. There's a new feel and texture about what you see on the small screen and all these changes are happening rapidly. Also, the audience's active participation has made things even more exciting. Today, you have a social platform, the power of social networking where the reactions to any show can be collected really fast and we have to keep up our supply to the demand accordingly. It has become really challenging.
Television today offers better money, which certainly wasn't the case when you stepped into the industry…
Monetarily speaking, production values for any show have become huge. But with money has come an organised structure that leaves no room for mediocrity. So everything from the costume, to makeup to scripting to editing requires precision. Today we have a massive force working with us right from the creative department to the marketing division. From cinematographers to line producers to the assistants to the stylists and makeup artists – every department is segregated, which has brought in professionalism and efficiency because everyone knows their roles clearly. When I started out, things were really different and many roles were rolled into one. So my generation had to multitask a lot.
From Yeh Rishta Kya Kehlata Hai to Kuch Toh Log Kahenge, you have shown very diverse relationships on the small screen. Clearly, portraying relationships is your forte…
I don't do any show keeping only the commercial constraint in mind. I feel if an issue needs to be addressed through a plot or via a storyline that is both entertaining and informative, then I simply go for it. I have never worked on any show keeping just the business aspect of it in mind. Perhaps that's the reason why people connect to my shows emotionally and invest in the characters and the storyline sentimentally.
From writing to direction to production, you dabble in various facets of this industry quite smoothly. How do you achieve that?
Oh, I do many other jobs too! I see to it that everything right from the costumes to the sets to the editing to the lights to the makeup is organised. And when one has spent 20 years in the industry, all these things come naturally. There's no room for goof-ups and perfection becomes the need of this profession, mainly because it is a visual medium. Also, I believe in my team, my technicians and my writers immensely.
On the one hand you have directed path-breaking and highly unconventional shows like Jassi…. And on the other you have given a modern take on relationships in Kuch Toh…. Then you have also produced traditional saas-bahu sagas like Yeh Rishta…. How do you manage to tell such a range of stories?
I think this must have stemmed from my habit of reading two to three novels at a time! Even as a kid I would read many book simultaneously. So all these parallel tracks run through my mind (laughs).
Indian television has become more glamorous and much bigger. When did you first realise the power of the changing face of the small screen?
I think it was when I was directing Jassi… The show struck a chord with hundreds and thousands of people. It influenced the masses in a positive way and was hugely entertaining too. The popularity it achieved was incredible. Even Shahrukh Khan had come on the sets with his kids to meet Jassi once!
While our films are breaking the barriers and pushing the envelope, TV it seems has lost connect with the youth who are more hooked online rather than glued to the idiot box. What can be done to change the content on TV, which many think is highly regressive and repetitive? What changes can you foresee that will help this industry to flourish and more importantly connect with youngsters?
I think television is on the cusp of a huge transformation. But one needs to understand that it is a mass medium. It doesn't serve only to the youth. It caters to all and that's the fun part of it. As far as content is concerned various experiments are being carried out and nobody can predict what will happen in the days to come – what will work and what won't. Having said that, I would like to assure the audiences that we are looking to create shows with a definite plotline, a definite start and a concrete end.
I have never understood why the small screen is called the idiot box. Certainly so many viewers who are enamored by the power of this medium are not idiots and neither are the makers who create these shows. Television educates, entertains and it is a smart medium to work in. And with so many reality shows around, TV also produces a star in almost every second home!