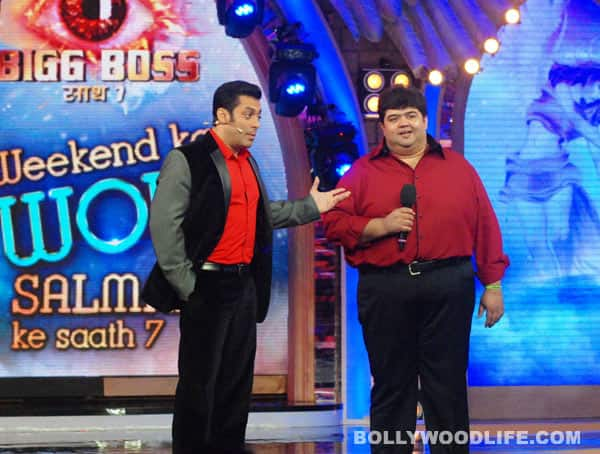 After spending 13 days inside the mad house, the producer-actor was evicted from Bigg Boss Saath 7. He talks about the whys and wherefores of his time on the reality show….
From a good sense of humour to funny one-liners to witty T shirts, Rajat Rawail had it all to make viewers LOL. He entered the Bigg Boss 7 house with much enthusiasm but went into a depression soon after, dealing health issues and being homesick. While some believed that he was just faking it to grab eyeballs, others were genuinely concerned about his health. Whatever the truth may be, the actor-producer was nominated and then evicted from the house. We caught up with Rajat post his exit and he told us about his time inside the house and a few secrets…..
How did it feel to spend 13 days with total strangers?
It was a very good journey for me. I am a happy-go-lucky person. That's my profile. I keep smiling. So overall my journey in the first week was great. But in the second week, I felt a little lost. Main thoda depression mein chala gaya. I hit bottom and then I couldn't get out of it. That why I got evicted.
Your 'good friend' and the host of Bigg Boss 7 Salman Khan was a little irritated by what was happening inside the house in the second week. He said that there was a lot of negativity because of you.
It's absolutely justified. There is no doubt about it. He knows me for 20 years now. I held his hand in four projects – No Entry, Wanted, Ready and Bodyguard. The house was indeed going through a low when I was there. Unfortunately, I couldn't live up to Salman bhai's expectations. Whenever I am given another chance, I will do my best.
Were conditions really that bad inside the house?
The conditions were not bad, but they were very difficult. I had seen the previous seasons of Bigg Boss, but I overrated myself or underestimated the conditions. One day I was given a meal inside the house and it had three pieces of gobi and one roti. So I asked Shilpa (Agnihotri), 'Yeh kya karna hai – chakh ke bataana hai?'. She told me, 'Nahi Rajatji, aaj ka khaana yahi hai.' So for a man of my size, it was very difficult. That triggered it. I started missing my family – my wife and my daughter. Then I started having a couple of more issues and that's the reason I hit bottom.
Is Bigg Boss scripted?
One hundred percent of the show is not at all scripted. If it was, I would have been inside the house right now! Instead, it's very difficult. I salute all the people from all the six seasons of the show.
Who do you think has the best chance of winning Bigg Boss 7?
Predicting the winner at this stage is not easy – it's too early. However, the top four contestants according to me would be Tanishaa (Mukerji), Armaan(Kohli), Sangram(Singh) and Elli(Avram).
VJ Andy revealed something about you in the house. He told jahannum-waasis that you had said that you will do something that will add to the TRPs of the show….
VJ Andy is an idiot. He is a VJ and he has this cheap thinking process. He has not entered Bigg Boss as a natural human being. He and Gauhar are there just to grab eyeballs. I entered Bigg Boss for a natural way of life – if I am hungry, then I am hungry; if I am crying, then I am crying. VJ Andy thinks that he is oversmart guy, but actually he is quite an idiot.
Who do you think is the most wicked person in the house?
It has to be VJ Andy – he is idiotic and thoda badtameez bhi hai.
When Hazel Keech came out of the house, she said that Pratyusha Banerjee was someone who provoked people to fight….
I couldn't spend much time with Pratyusha and Kamya Punjabi, because they were in jahannum for two weeks and I was in jannat. But from the little time that spent with Pratyusha, I disagree with Hazel. I felt Pratyusha is a very sweet girl – she would give me a flying kiss every morning. She is very talented and very pretty. Maybe Hazel spent a lot of time with her, so she would know better. But I would not like to point a finger at Pratyusha at this stage.
Do you think something is cooking between Kushal Tandon and Gauhar Khan?
Kushal seems to interested in Gauhar, but I really don't know about Gauhar's feelings for him. Mere ko lagta hai uski kundli mein Shani hai. Woh bandi Friday ko kuch aur bolti hai, aur Saturday ko kuch aur.
Now that Asif Azim has entered the house, will we see a love triangle?
I don't think so. Asif is very focussed. He won't try to piggyback on Gauhar for anything. He has a identity of his own. Kamya Punjabi and I were the only people in the house who are married; all the others are single. So you never know! All of them will try to shake up things inside the house.
Who do you think is the scapegoat on the show?
At this stage the scapegoat is Anitaji (Advani). I think she is being used by other housemates. Anitaji khaana bana dena, Anitaji aloo bana dena, Anitaji ye kar dena, Anitaji woh kar dena…you know what I mean. Everyone is taking advantage of her. That day is not far when everyone will say, 'Anitaji ko out karo, yaar'.
It's evident that you hate Andy. But who else do you dislike?
I am not that kind of person who can really hate anybody. Nobody crosses my line and I don't cross anybody's line. But I must say that Andy, Gauhar and Kushal are quite irritating.
If given a chance, would you go back into the Bigg Boss house?
At this stage it's too early to say anything. I just want to get better. I need to consult a dietician and get slimmer. I also need to visit a psychiatrist and get my phobias in order. It is only after these things fall in place that I will attempt to go inside the Bigg Boss house again. I don't want any more embarrassing situations to come up where Salman bhai, my fans or my family are disappointed.
You must have spoken to a lot of your fans post your exit….
Yes. A lot of people have called me and messaged me. A lot of people have reacted to my first episode. They really loved me and made cartoons on me. Kids and teenagers told me that I was the jolly good person in the house. Some people even asked why I wanted to get slimmer. But some were disappointed too; they said, 'Aapne kuch kiya nahi second week mein. Aap se hi ummedein lagaaye baithe the'. So I am getting mixed reactions. Hopefully I will not disappoint my fans if I get the opportunity to go back into the house.