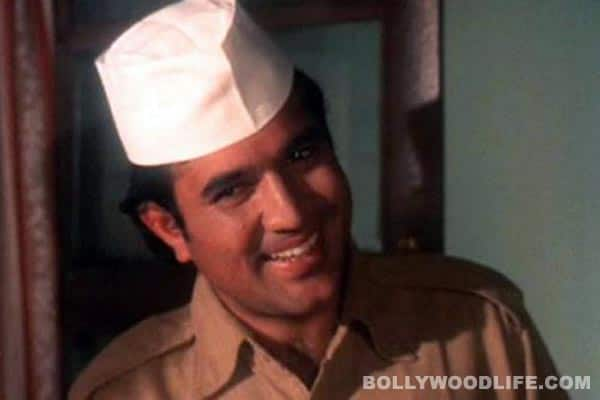 He was not just a star, but an actor who showed off his skills in a wide range of roles
Forget Wafaa, Kya Dil Ne Kaha and the like. His last few movies were not representative of what Rajesh Khanna was actually capable of. The superstar who charmed his way into the hearts of the nation's women had more than a killer smile going for him. He was a consistent performer who showed off his histrionic abilities whenever he got the chance. It was not easy to break out of the image of the perfect loverboy that he played with élan in movies such as Kati Patang, Aradhana, Daag, Aap Ki Kasam and Mere Jeevan Saathi. But whenever he got the chance, Rajesh Khanna proved to everyone that he had a lot to offer. Here's our list of fave not-so-romantic characters:
Anand in Anand: Anand is terminally ill, but he doesn't spend his last days bemoaning his fate or trying to find a cure. He lives life with all the joy and vivacity of a young, healthy man, and in the process affects the way his doctors and friends view life. Rajesh essayed Anand with the perfect balance of flamboyance and sincerity
Avtaar Krishen in Avtaar: Rajesh excelled as Avtaar, a hardworking family man shunned by his grown up sons. He starts his own business and proves that an aged, crippled man can do anything if he is determined enough.
Sahabji in Swarg: Sahabji shares a close bond with his servant Krishna (Govinda) and the way Rajesh expresses his fondness for the younger man – while forcing him to leave him and find his own fortune – makes the film worth watching.
Alok Nath in Aakhir Kyon: Unlike Aradhana or Kati Patang, Rajesh played a more mature lover in love with a divorcee Nisha (Smita Patil). He waits 20 years for her and continuously insists that just because a woman is a divorcee doesn't mean she can't move on with her life. He played Alok with a sincerity that touched our hearts, and when he finally 'wed' Nisha, you can't help but applaud.
Dilip Roy in Ittefaq: It's not often that a commercial Bollywood actor goes outside his comfort zone and takes on a role that could seriously mar his image. But that's exactly what Rajesh Khanna did in Ittefaq. He played Dilip, a man who murders his wife in a fit of rage. He compounds that by running away from the mental hospital he's been sent to, and hides in another woman's house! The film had no songs and no scope for Rajesh to do his trademark head tilt, yet it became a hit.
Police Inspector Kumar Chandra Singh in Ashanti: Action was not really Rajesh's forte, with most of his action films bombing at the BO. Ashanti, however, gave him scope to actually portray the more violent emotions of anger and revenge instead of limiting his expressions to love and sorrow –the way he did in countless romantic movies.
Raghu in Bawarchi: This is another example of Rajesh experimenting with the boundaries of his comfort zone. Unlike Ittefaq, this movie had him singing songs and showing off his cooking skills, but not to woo a lady love. Rajesh easily blends the fun, lighter side of his personality with a few serious shades to create a memorably dubious character.
ALSO READ: Rajesh Khanna songs: The most memorable musical star