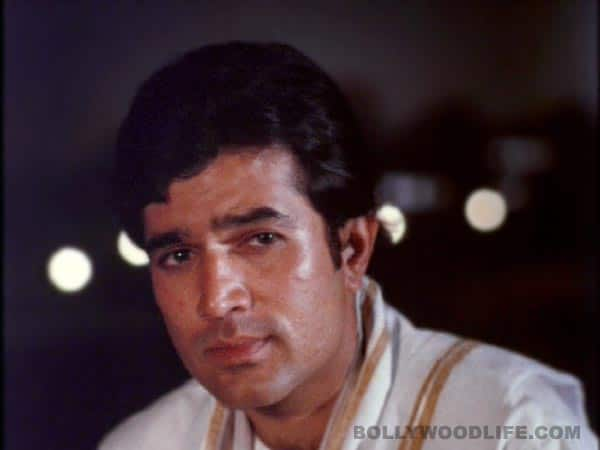 The first superstar of Bollywood passed away, and his peers mourned his demise on Twitter. Shahrukh Khan, Madhuri Dixit-Nene and Karan Johar are some of the celebs who tweeted condolence messages

Rajesh Khanna was the discovery of an all-India talent contest organised by United Producers and Filmfare. He heralded the concept of superstars in Bollywood. With the success of Aradhana, he shot to "instant national fame" and film critics referred to him as the first superstar of India. During the peak of his career he would be mobbed during public appearances. Fans kissed his car, which would be covered with lipstick marks, and lined the road, cheering and chanting his name. Female fans sent him letters written in their blood. Veteran film critic Monojit Lahiri remembers "Girls married themselves to photographs of Rajesh Khanna, cutting their fingers and applying the blood as sindoor. Rajesh was God, there has never been such hysteria."Rajesh Khanna had fifteen consecutive solo superhits from 1969-1972; which is still an unbroken record in Indian film history.
For some he defined romance on screen, for some his heart-warming performances brought tears, and for a whole lot of Bollywood celebrities Rajesh Khanna, Hindi cinema's "first superstar", was the "phenomenon" whose "magic" will live on forever through his memorable films, dialogues and songs. Young as well as veteran celebrities of all age groups remembered Rajesh Khanna, fondly called Kaka, who passed away in Mumbai Wednesday following prolonged illness. Many of them took to Twitter to share their experiences and thoughts about the 69-year-old, who delivered hits like Anand, Kati Patang and Aradhana among about 160 films that he featured in. Here's what the celebrities had to say:
Shahrukh Khan: To live with intention & walk to the edge. Play with abandon, choose with no regret. Smile & made us do the same.Sir,u defined our era.RIP
Madhuri Dixit-Nene: Another of Hindi cinema's giants passes, Rajesh Khanna. Our sincere condolences to his family. We will miss him dearly.
Shilpa Shetty: Just heard the sad news. Heartfelt condolences and prayers to the family to cope with this irreparable loss. R.I.P Rajesh Khanna, a superstar always.
Karan Johar: The magic, the mannerism, the mania of RAJESH KHANNA is inscribed in every archive of Indian cinema…forever…RIP SIR!!!
Shekhar Kapur: 2 young.2 early.Tragic. #RIPRajeshKhanna. A candle that burned brighter than any star for 2 short a time
Shahid Kapoor: RIP to the 1st king of romance …… Rajesh khanna ……
Rituparno Ghosh: You were the first to combine heroism and humanity in Hindi films. You were the Cupid who taught us romance. In a dhoti and kurta, you showed the rest of India how truly elegant Bengal was. Without you the screen will be robbed of much of its silver.
Kunal Kohli: The word superstar was used first for Rajesh Khanna. His style. His ada. His charm. His smile. His songs. His films. He. Will always live on.
Mahesh Bhatt: When we lose a loved one, something within us dies. Our generation loved Rajesh Khanna. Today, a bit of us dies with this enigmatic star.
Neha Dhupia: RIP Rajesh khanna Saab … U , ur stardom, ur magic will live forever!
Dia Mirza: "Babumoshai eto bhalo bhasha bhalo na…"Anand, Kati Patang, Bawarchi and many more… What a legacy you've left behind. RIP Rajesh Khannaji
Bipasha Basu: Loss of a Superstar!Iconic Actor!RIP Rajesh Khanna!
Raima Sen: AAPKE FANS HAMESHA AAPKE RAHENGE' RIP RAJESH KHANNA first superstar of indian cinema."True
Arshad Warsi: RIP KAKA…. God bless n have mercy on his soul….
Farah Khan: Just hrd the saddest news.the 1st Superstar of india is no more.bt the legend that was Rajesh khanna will live eternally thru his films.
Tusshar Kapoor: Rajesh Khanna ji, our 1st superstar is no more! I worked with him in kyaa dil ne kaha & learnt a lot just talking to him! May his soul RIP!
Anupam Kher: Rajesh Khanna gave us a crash course in romance. He introduced us to a special twinkle in the eyeS that made us feel good about ourselves. Rajesh Khanna taught us how to smile. He added dignity to our concept of Romance. His songs made us forget our daily struggles of life. Rajesh Khanna was larger than life. He was a King who gave Indian Cinema glamour, style, and substance. We will Miss you Sir. RIP.
Prateik: Zindagi ka safar, hai yeh kaisa safar, koi samjha nahi.. – aap shayad samajh gaye. RIP Rajesh Khanna Sahab… upar Smita se zaroor milna (Do meet Smita Patil up there).
Madhur Bhandarkar: The epitome of superstardom is no more amongst us. There was none, there is none and there won't be any like you Kakaji. You will be missed.
Siddharth: Superstar Rajesh Khanna has left us:( so many films, songs and memories…r.i.p sir.
Rahul Bose: RIP Rajesh Khanna. The Phenomenon. Thank you for the magic.
Vishal Dadlani: Hoping that the news of Rajesh Khanna's passing is another hoax. If it's true, we've lost India's first PHENOMENON, a true megastar! Rajesh Khanna inaugurated a park in Khar, in the 1970s. It's still called RAJESH KHANNA GARDEN! Always will be! Official name became irrelevant!
Ken Ghosh: RIP Rajesh Khanna – my first memory of a film theatre was weeping while watching "Haathi Mere Saathi".
Tusshar Kapoor: Rajesh Khannaji, our first superstar is no more! I worked with him in 'Kyaa Dil Ne Kaha' & learnt a lot just talking to him! May his soul RIP!
Shreyas Talpade: My first film that I saw on a VCR was 'Aradhana'. Zindagi kaisi hai paheli haaye, kabhi ye hasaye kabhi ye rulaye. RIP our very dear 'ANAND'
Divya Dutta: RIP Rajesh Khanna! The very endearing superstar of Indian cinema who brought romance a new meaning on screen! You'll be terribly missed Kakaji.
Dia Mirza: "Babumoshai eto bhalo bhasha bhalo na…"… "Anand", "Kati Patang", "Bawarchi" and many more… What a legacy you've left behind. RIP Rajesh Khannaji.
Pooja Bedi: Deeply saddened to know Rajesh Khanna is no more with us on this planet! Wish the family and all his ardent fans strength!
Manoj Bajpayee: Nafrat ki duniya ko chod ke pyar ki duniya me khush rahena mere yaar!Still remember "Haathi Mere Saathi". Saw it as a child. We will miss you sir.
Kaka, as he is fondly called, is survived by his wife Dimple Kapadia, daughters Twinkle and Rinke Khanna. It is a great loss to Bollywood but let us not cry – he hates tears. We hope his noble soul rests in peace.
With inputs from agencies