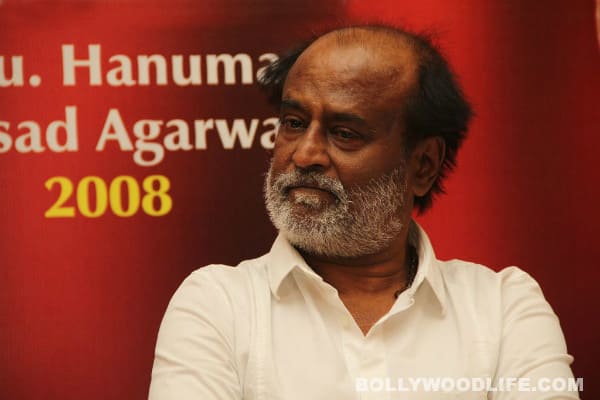 Fans of the Superstar across the world will celebrate his birthday today just like they would enjoy festivals like Deepavali or New Year
Born on December 12, 1950 as Shivaji Rao Gaikwad, Rajinikanth turns 62 today. Huge arrangements are being made to celebrate the special day. Members of Rajinikanth's fan club are organising blood donation camps, functions to distribute financial aid to the needy, special poojas at temples and lunches at old-age homes.
Meanwhile, in a big treat to Rajinikanth fans, AVM Productions will release Sivaji, the Superstar's 2007 blockbuster, in 3D. Those who have already watched Sivaji 3D in preview shows are all praise for the film, saying that Rajinikanth simply rocks in 3D avatar and there could not be a bigger treat than this for Rajini fans.
Also, two books on Rajinikanth will be released on December 12. My Days with Baasha: The Rajnikant Phenomenon, written by filmmaker Suresh Krishna, who worked with Rajini in three films- Annamalai (1992), Veera (1994) and Baasha (1995). The second book is Rajinikanth – The Definitive Biography, written by London-based film journalist Naman Ramachandran. "This book is the closest we are likely to get to the definitive Rajini story," says the blurb of the book.
Also, actor-choreographer-director Raghavendra Lawrence, who is a big fan of Rajinikanth, has released a song – Idhu Rajini Song – as a birthday gift to Rajini and his fans. The song is composed by Vijay Antony and penned by lyricist Annamalai. "This is my small gift to Rajini sir and his fans," says Lawrence.
TV channels and FM stations are planning special shows to mark Rajinikanth's birthday. And daily newspapers and weeklies are coming out with special issues. Says Trade analyst C S Sundar, "No other star in Tamil cinema can claim this kind of popularity. Rajinikanth's birthday has always been celebrated as a festival and this time it's doubly so since the date is 12-12-12, which is as unique as Rajini."
Rajini Muthu, office-bearer of a Rajinikanth fan club said, "Our Thalaivar's birthday is the biggest day of the year for us. He has set an example for everyone with his lifestyle and his life is his lesson."
We wish the Superstar a grand birthday, all the luck for his next film Kochadaiyaan and a healthy life ahead!