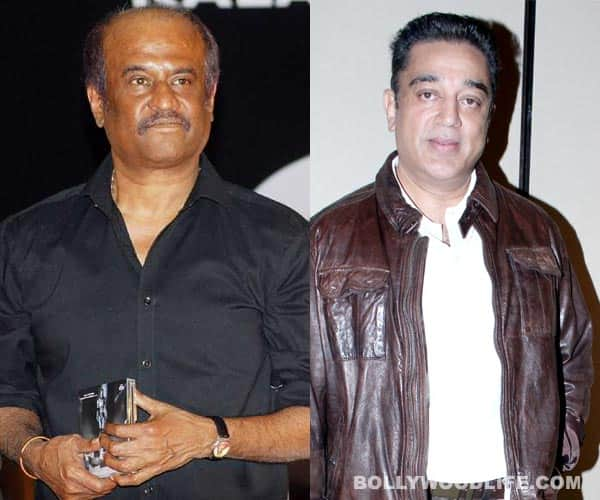 Superstar Rajinikanth urges protesting Muslim groups to let his friend Kamal Haasan's film see the light of day
Saddened by the ban on his close friend and colleague Kamal Haasan's Vishwaroopam in Tamil Nadu, superstar Rajinikanth has urged Muslim groups to withdraw their protest.
On Wednesday, the state government banned Vishwaroopam for two weeks when around 25 Muslim organisations objected to Kamal's movie on the ground that it portrays the community in bad light. A day later, the Madras High Court restricted the film's release till January 28. A judge will see the movie January 26 and decided on its fate.
"I request my Muslim brothers to sit with Kamal Haasan, discuss and release the film without hampering the storyline. He is no ordinary artiste but an extraordinary one who can take Tamil cinema to all new levels," Rajinikanth said in a statement.
"Kamal and I have been friends for over 40 years and I know personally for a fact that he wouldn't hurt the sentiments of anybody let alone Muslims," he added.
Made in Tamil, Telugu and Hindi, Vishwaroopam, which deals with the adversities of war, is produced and directed by Haasan who has also acted in it. It was earlier scheduled for a January 25 release.
When the Muslim organisations had objected to the movie, Kamal organised a special screening for them. But the members of the organisations hardened their stance after watching the movie, alleging that the community was not shown in a good light. "He should be respected for the fact that he screened the film to Islamic leaders before its theatrical release," said Rajini.
Vishwaroopam in Tamil and Telugu was scheduled to release on Friday January 25, but was only released in places like Kerala and few parts of Hyderabad.
The film, which also stars Pooja Kumar, Andrea Jeremiah, Rahul Bose, Shekhar Kapur and Jaideep Ahlawat, has also been banned in Andhra Pradesh Friday by the Tamil Nadu government.
ALSO READ: Vishwaroopam ban: Celebs tweet in support of Kamal Haasan