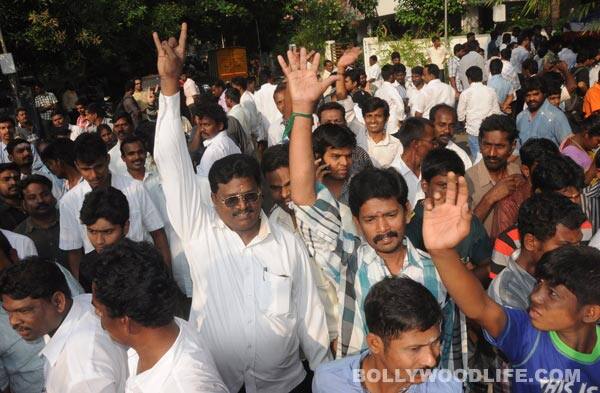 skip advertisement
The Superstar turned 62 years today on 12.12.12
As an age old tradition, fans of Rajinikanth thronged to meet the Superstar on his birthday. Worldwide, Rajini fans have been celebrating the actor's birthday by doing charity work, throwing a birthday bash and more.
Rajini is not only worshipped by his fans, but also the film fraternity. Viji Chandrasekhar, who played Rajini's younger sister in Tamil comedy Thillu Mullu, a remake of Hindi blockbuster Golmaal, feels it's his ability to treat everybody equally that makes Rajinikanth the icon he is.
"He treats everybody on sets with utmost respect and equal importance. Be it a light boy or a co-star, he doesn't discriminate for any reason," said Viji. She said a superstar is not someone who is always successful, but is someone who takes success and failure in the same stride and yet remains simple. "I've learnt to be simple while working with him on the sets of the film. Though he plays a hero in the film, he is simple in real life. Most importantly, he knows how to take success and failure in the same stride," she added.
On the other hand, Tamil filmmaker Lakshmy Ramakrishnan feels Rajinikanth is a superstar because he doesn't believe he is one. "He never believes or wanted to be called a superstar, but he is one because people made him. Superstars are not born, they are made. But if someone desperately tries to be a superstar, they're sure to fail," said Ramakrishnan.
Kajal Agarawal tweeted: Here wishing #Superstar #RajiniKanth sir a happy b'day !!
GV Prakash Kumar tweeted: Happy bday to thalaivar rajinikanth .. Long live the superstar ♥
With inputs from IANS