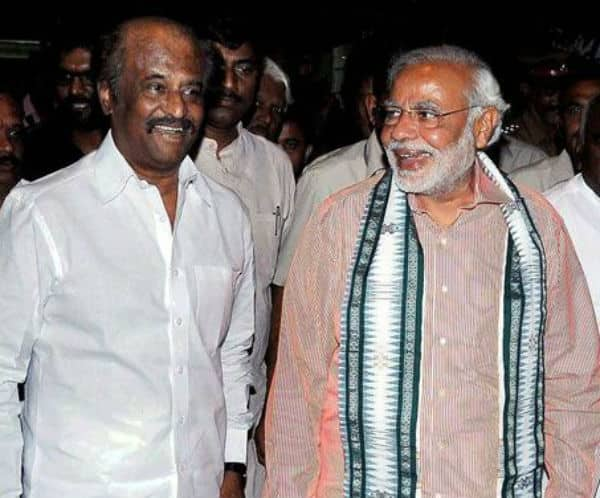 Narendra Modi recently met the South superstar at his residence
'Superstar' Rajinikanth today described BJP's prime ministerial candidate Narendra Modi as a "strong leader and able administrator" after the Gujarat Chief Minister called on him, but termed their meeting as courtesy call, in tune with his long maintained apolitical stand.
"Everyone knows that he (Modi) is a strong leader and able administrator. He is my well wisher and I am his well wisher. I wish him all the best for his future. All the time God should be always with him. I pray God whenever he thinks, whatever he thinks should happen," Rajinikanth said in an obvious reference to Modi's ambition to become Prime Minister.
Posing for the media outside his residence, thronged by a huge gathering of fans, the actor shook hands and hugged Modi and said, "I am happy he is here." Rajinikanth, who keeps a good distance from politics, in a clear attempt to send a message to the people of the state and also his fans, speaking to the press with Modi at his side, said, "This is not a political meeting."
In an attempt to put at rest speculation doing the rounds whether he would express support to the saffron party, Rajinikanth, said, "When Modiji visited me when I was hospitalised, I had invited him to have a cup of tea with me whenever he came to Chennai. So he has come now."
Responding to his good wishes, Modi, dressed in a saffron shirt and dhoti, said, "I wished him on the eve of Tamil New Year. He is a good friend." Modi, who was in Chennai to attend AIADMK chief J Jayalalithaa's swearing-in as Chief Minister on May 16, 2011, had visited Rajinikanth at a private hospital where he was undergoing treatment for respiratory problems and wished him speedy recovery.
Soon after his arrival here from electioneering in Karnataka, Modi drove to the residence of Rajinikanth from the airport and spent about 30 minutes. Modi, also posted a picture of him with the 'Superstar' on Twitter. It was not immediately known whether the meeting between the two ended just with exchanging of pleasantries and greetings or there was any political discussion in the backdrop of April 24 polls, which the BJP is contesting as part of a six-party alliance headed by it.