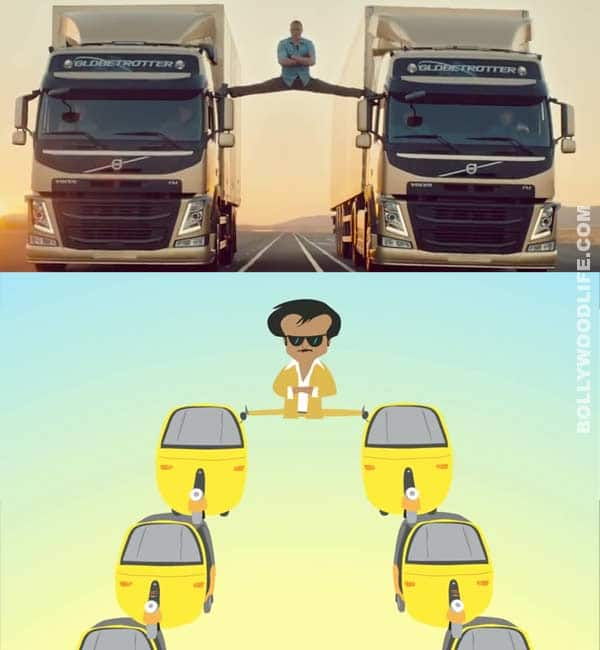 So what if Van Damme can do a full stretch across two Volvo trucks, Rajini can do it with many rickshaws! Read on to know more…
Jean-Claude Van Damme's latest ad for Volvo trucks went viral. People all over the world swarmed in to social networking websites to praise the actor's full stretch across two trucks and then suddenly everyone wanted a Volvo truck. While the world was busy singing praises for Van Damme's flexi-ability, Rajinikanth fans – who love and are loyal to his superstar image as the best man alive who can do anything – made a spoof of the original ad using an animated Rajini. The animated video is titled 'Thalaivar Epic Split' and it's fun, it's hilarious and, trust us, it's much better than the Van Damme version. Wink, wink.
The spoof video begins exactly like the original one. But instead of performing a full-stretch across trucks, the animated Superstar is seen doing it on top of auto rickshaws which in turn are placed on top of two other ricks. It's amazing and we totally loved it! The animated character is inspired by Rajini's famous role as a rickshaw driver in his blockbuster film Baasha.
So while Van Damme's commercial did go viral, do you think Thalaivar's spoof will get more hits? Watch and enjoy, 'coz this one's worth every giggle, BollywoodLifers!
[flv image='http://st1.bollywoodlife.com/wp-content/uploads/2013/12/Rajini-Van-Damme.jpg']http://st1.bollywoodlife.com/wp-content/uploads/2013/12/Rajnikant-spoof-on-Jean-Claude-Van-Damme.flv[/flv]