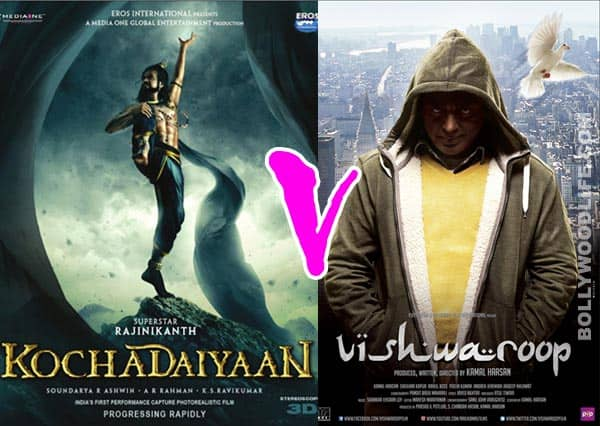 Cineswami gives some dope on the battle between the two Tamil superstars for their movies Kochadaiyaan and Vishwaroopam
It would seem that whatever Kamal Haasan does, Rajinikanth goes one better. Kamal had announced the launch of the Auro 3D  3D sound technology for his magnum opus Vishwaroopam. Chennai's Satyam cinema became the first theatre in Asia to be fitted with the spanking new sound system, a format that provides a three-dimensional soundscape that can reproduce natural acoustic space. Kamal had convinced some 25-30 hapless cinema owners in Tamil Nadu and Kerala to invest in the new technology. "We've managed to convince a few theatres, but not each one of them. It's high time they work hand in hand with filmmakers to give the audience a rapidly changing cinematic experience," said Kamal.
Vishwaroopam is yet to hit our screens but Rajini's Sivaji 3D is due on Superstar's birthday, 12.12.12. And it boasts, also in a Satyam cinema, Dolby's latest Atmos sound technology. Not ones to underplay their product, Dolby gushes: "The most significant development in audio since the arrival of surround sound is here. Dolby Atmos delivers audiences a more natural and realistic soundfield, transporting them into the story with a lifelike sensory experience. Developed with input from professionals throughout the movie industry, Dolby Atmos represents a dynamic shift in audio, reinventing the traditional surround sound methodology and offering a complete platform for sound now and well into the future."
Sounds like much of a muchness to be honest, but audience ears will be well served, at least in sophisticated South India. Meanwhile, while Rajini fans can delight at Sivaji 3D, Kamal fans are wondering when they'll see Vishwaroopam. January 11 is the current date but Kamal had better hurry, as Mani Ratnam's Kadal is nearly ready and could well release on the same day. Meanwhile, Kamal has been plugging Auro to the Kochadaiyaan team.
While Cineswami is in Chennai, might as well laud current Tamil cinema, which, along with Marathi cinema is currently producing the finest films in the country, not afraid to take risks. For example, Naduvula Konjam Pakkatha Kaanom, by newcomer Balaji Tharaneetharan and starring newbies Gayathrie and Vijay Sethupathi is a rip-roaring comedy about – amnesia. The team has taken a storyline laden with pathos and yet managed to make a laugh-a-minute comedy. And the audience has responded in droves. Just take a look at the last Bollywood film that dealt with amnesia, Jab Tak Hai Jaan. There, we laugh at the film than with it. Anyway, all is forgiven, as it is Yash Chopra's last film.