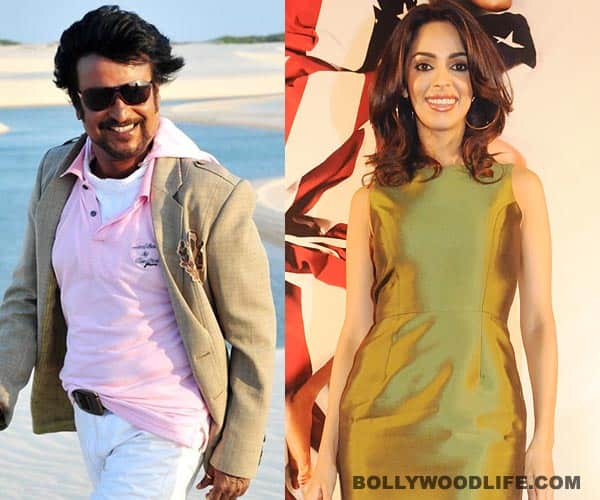 Cineswami tells us more about Superstar Rajinikanth's film with his Bollywood director KC Bokadia
It is news that will make North Indian fans of Thalaivar swoon. Rajinikanth may return to Hindi cinema, if the grapevine in Chennai is to be believed. It appears that the biggest Superstar of India has graciously consented to do a role in his old friend KC Bokadia's next. Titled Dirty Politics, the film is based on the Bhanwari Devi case in Rajasthan (not to be confused with the 1992 Bhanwari Devi gang rape case) where Devi, a midwife, went missing in 2011 and her body was eventually found days later. A prominent politician was investigated for her alleged murder.
Mallika Sherawat is in talks to play the Devi character, rechristened Anokhi Devi, and Jackie Shroff has been pencilled in to play the politician. Rajinikanth is very likely to play a significant role in the film that also will star Om Puri, Anupam Kher, Atul Kulkarni and Ashutosh Rana. Of course, with all matters Superstar, who is known to be extremely choosy about his films, we'll get confirmation only when cameras begin rolling.
Rajinikanth has acted in four Bokadia films – Asli Naqli, Insaaf Kaun Karega, Tyagi and Insaniyat Ke Devta. The Superstar began his Bollywood innings with a roar in Andha Kanoon alongside Amitabh Bachchan and Hema Malini but like his Bokadia films, much of his Hindi output has been unremarkable. His last Hindi roles were guest appearances in Bulandi and RA.One. Hindi dubbed versions of his Tamil films Sivaji: The Boss and Endhiran have enjoyed some box office success in North India.
The Superstar's next release will be a re-release of Sivaji in a 3D version on 12.12.12, his 62nd birthday. The performance capture animation film Kochadaiyaan, directed by his daughter Soundarya R Ashwin has been postponed and is now due to release during the Pongal holiday in January 2013. The film will be released in Tamil, Telugu, Hindi, Malayalam, Japanese, Italian and Spanish versions. Teams are working around the clock at post-production houses in the US, Hong Kong and the UK to give the film an international sheen. Co-producers Mediaone Global Entertainment have secured a Rs 20 crore loan from Exim Bank towards post-production and is in negotiations with other banks to secure another Rs 30 crore. This will push the budget north of Rs 125 crore. But recovery is hardly an issue for a Rajini film. The music rights for AR Rahman's score have already been sold to Sony Music for Rs 7.5 crore and the rights for just the Tamil version of the film may go for Rs 25 crore.