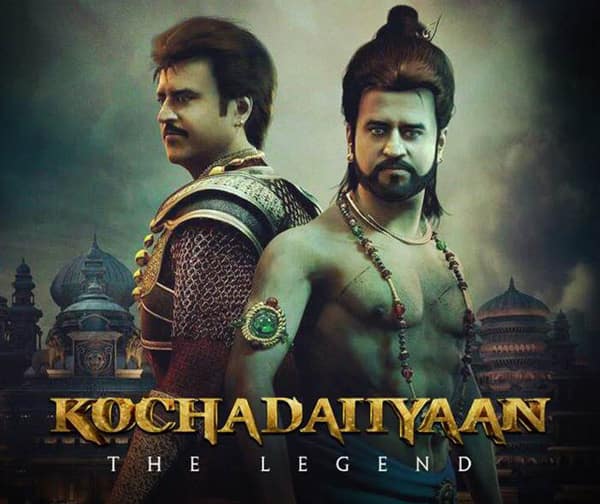 The film will now release on May 23 instead of May 9
Fans of Superstar Rajinikanth were in shock after the last minute announcement by Eros International and Media One that the Kochadaiiyaan (Vikramasimha in Telugu) release is postponed by two weeks from May 9 to May 23. All of South India, especially Chennai, was caught up in Rajini fever with thousands travelling there to participate in the first day first show frenzy that any Thalaivar release generates, only for their hopes to be dashed to smithereens.
The reasons attributed to the postponement are – "to cater to the demand for multiple language and the 2D and 3D versions to release the same day" and "some unexpected technical issues". It is difficult to fathom how such a major release, already postponed several times, with 6000 prints due to be unleashed worldwide could meet with "technical issues" just two days before release. Surely, there are other reasons behind it. Whatever they are, Rajinikanth has halted his Lingaa shoot in Mysore and has dashed to Chennai to sort matters out.
Meanwhile, Atmus Entertainment, the film's US distributor could not conceal their disappointment and took to Twitter to bemoan the postponement. "#Kochadaiiyaan #Vikramasimha had the best possible release plan for a South Indian film in the USA with 278 screens combined for 2D/3D" read the first tweet, followed by "Now, with the new date, multiple Hollywood releases on 16th and 23rd that too on 3D, very difficult to get screens" and "Mainstream theatres in USA were giving huge support to this film and now with this news we will lose all the support" and "now we wont even get half the number of 3D screens we got this weekend. (95 Tamil and 66 Telugu)".
The good people at Atmus do have a point. Amongst the films releasing during that period are the big budget 3D extravaganzas Godzilla and X Men: Days of Future Past and other high profile films like Million Dollar Arm, Words and Pictures and The Immigrant.
However, Atmus are still hopeful and tweeted: "We will handle it! We have waited on this for 14 months, another 14 days is fine :)". Though they say that they will try and get the screen count back up to May 9 levels, it is an uphill task, given the behemoth Hollywood films Kochadaiiyan is up against.
The situation is similar in Europe. Seyons Entertainment, who is releasing the film in the UK, Ireland, Germany, France, Switzerland, Denmark, Norway and Sweden, has remained silent. In fact their only tweet ever was on January 1, saying "Happy New Year people!"