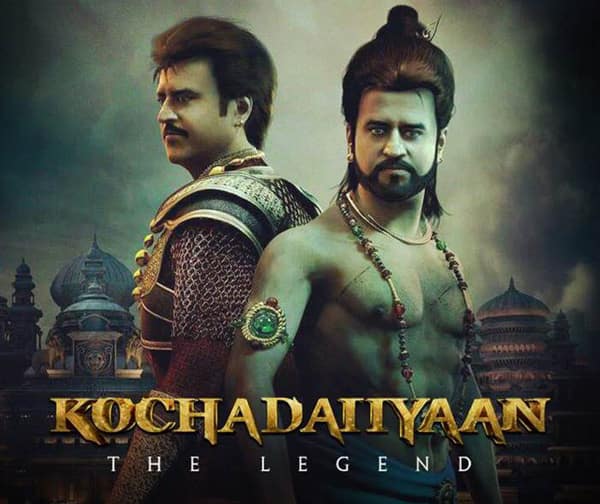 The much awaited film will finally release this April
It has been four long years since Superstar Rajinikanth's last release Enthiran (Robot in Hindi and Telugu). The breathless anticipation of millions of fans worldwide will finally be satisfied on April 11. Eros International Media has officially announced the release date for India's first photorealistic performance capture film, Kochadaiiyaan.
Directed by Rajinikanth's daughter Soundarya, Kochadaiiyaan is billed as an epic dramatisation of good versus evil with the Superstar in a double role. Also starring are Deepika Padukone, Sharath Kumar, Nazar, Aadi, Shobana and Rukmini. The music is by the peerless AR Rahman and the album is expected to release any day now.
Soundarya says, "Following last year's celebrations of India's film making centenary we view the release Kochadaiiyaan as part of the next steps of Indian cinema. For the first time a full length feature has been made using performance capture technology in India and I truly hope this creates a whole alternate film making avenue apart from live action films in our country".
Sunil Lulla, Managing Director, Eros International Media Ltd adds, "Eros is proud to present this magnum opus with Rajinikanth, which will take the Indian film industry to the next level. We are confident that this will be a landmark film in world cinema as a result of the groundbreaking technology used. The film will be released in Tamil, Hindi, Telugu, Marathi, Bhojpuri, Bengali and Punjabi in India and overseas in more than 6,000 screens. We will be releasing an English version internationally as well."
For those fans that want a piece of Superstar to carry home and speak into and play games on, the makers are releasing one million Kochadaiiyaan branded mobile phones. These phones will be released alongside the music, thus raising expectations to fever pitch until April 11.
Let's hope that the film matches up to the hype and expectations. Fans will not be satisfied with anything less than a masterpiece.