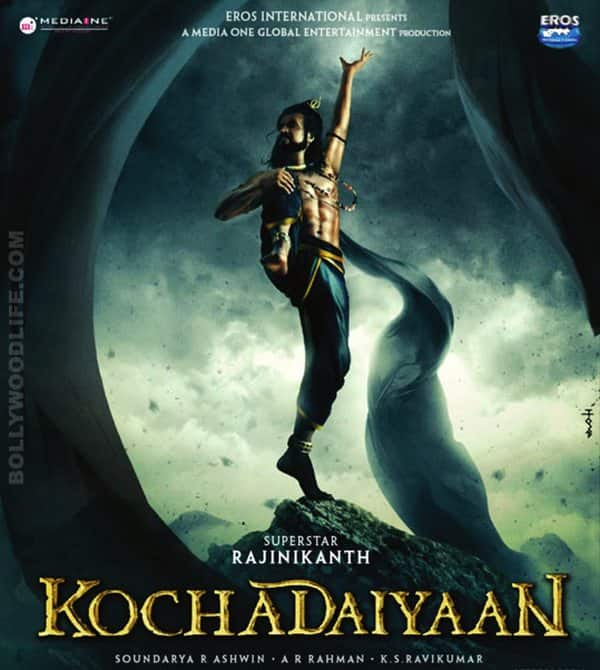 Even as Rajinikanth's film Kochadaiyaan is delayed for the third time, Cineswami wonders why the Superstar's daughter Soundarya is not being trusted as director of the much-hyped film
It's all going pear shaped over in Chennai with the next Rajinikanth magnum opus Kochadaiyaan. Firstly, the release date was postponed from the Superstar's birthday on December 12 to January then to February and now to April 2013. Understandable, because the team is keen to ensure that the performance capture film matches up to international standards, as it's also being released in English, Japanese, Italian and Spanish. Internationally, it is the norm for an animated film to take at least two to three years to complete. But now, Rajinikanth's publicist has confirmed that the direction supervisor has been replaced. KS Ravikumar, who helmed the monster Rajini hits Muthu and Padayappa, who's also the writer of Kochadaiyaan, was the earlier man on the job. Now, as he's busy with the Bollywood remake of Hari's Tamil hit Saamy that starred Vikram, the Hindi version will star Sanjay Dutt.
The man replacing Ravikumar on Kochadaiyaan is R Madesh, a former assistant of Shankar's who worked on Gentleman, Kadhalan, Indian, Jeans and Mudhalvan before making his directorial debut with Madurey, starring Vijay. This whole matter of a 'direction supervisor' begs the question – what in the name of Thalaivar is his function? Superstar's daughter Soundarya is officially the director of Kochadaiyaan. Granted it's her debut, but doesn't having an experienced director to hold her hand undermine her position and lead to speculation about who really directed the film? Anyhow, Cineswami is tickled pink by the notion of having a direction supervisor on set and thinks that it'll be a great innovation for Bollywood. Imagine if Sanjay Leela Bhansali had such an entity with him on the sets of Saawariya or Guzaarish, or JP Dutta on LOC and Umrao Jaan – much excess could have been avoided. But in the cases of those two 'auteurs', nothing exceeds like excess.
While we are on the subject of manure artists, the great Mahesh Bhatt will be presenting his views at the Avignon-Ruhr forum in Europe next week. Here are some advance excerpts of his thoughts:
"Man lives in hope and dies in hope. The blunt truth is this that there is no oasis yonder, the human race is stuck with a mirage. Culture is that mirage. All art is born out of frustration. Everything is born out of frustration. What is there to hope for that is not here already? A better tomorrow? A world free of conflict, of misery, of suffering? Can culture create such a world? Can the human imagination? The last 10,000 years is a history of human culture, of the human imagination writ large across the surface of our planet. Tell me, taking such history into account, could one reasonably hope for a different outcome? Culture, like anything, is a matter of definition. The powers that have been throughout history, whether religious, political, or economic have generally maintained a monopoly on the creation and enforcement of the different systems of definitions by which we live. In that sense, why would we expect any culture borne of such systems to lead to any other world than the one already in our midst? And yet, conversely, if one regards culture or the potential of the human imagination rather as a means to envision new definitions or modes of self-understanding, then perhaps, yes, it may offer some "hope". But not a hope for a world with less suffering, nor one any less destructive. Who can say if the unknown offers us any less of an abyss than the one history has already supplied? But if genuine instances of imagination can cast us further out into the unknown, or can welcome the unknown further in, then perhaps there is a chance, or a hope, that some power beyond the flimsy, archaic structures of human thought might in its own way express itself."
No? That's exactly what Cineswami thought. But the Europeans, with their penchant for new age drivel from exotic India may swallow it whole. Please do. And come visit. Every tourism Euro helps.