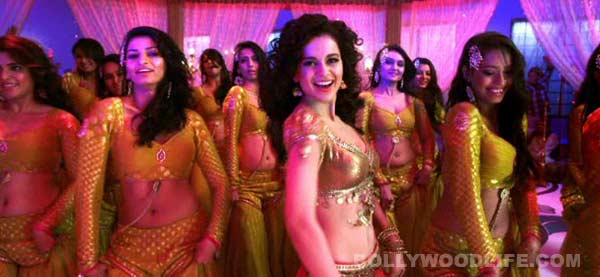 Kangna Ranaut's latest film is quite predictable…
We sent our movie critic to watch Kangna Ranaut's new film, Rajjo. She protested and pouted, since she wanted to watch the match that Sachin Tendulkar is making his farewell with instead. But we pushed her out the door and she went to the press show. And this is what she said about it during the interval, with no sulk or bias attached: "The film is set in the infamous Grant Road of Central Mumbai. Kangna Ranaut essays the title character of a nautch girl who is sold by her sister and brother-in-law for a few thousand rupees. The kotha is owned by Mahesh Manjrekar who plays Begum. So far the film does not offer anything new.
"In Rajjo, Kangna falls in love with 21-year-old Chandu who is a student. Chandu meets  Rajjo when he visits a kotha along with his friends and falls in love with her. Kangna too gets carried away… What happens next? Will Chandu help Rajjo to get out of her world and keep her happy? Kangna plays her part with utmost honesty, but she needs to work on her dialogue delivery."
Keep watching this space for full review. And we promise to allow our critic to watch Sachin play tomorrow. Honest….