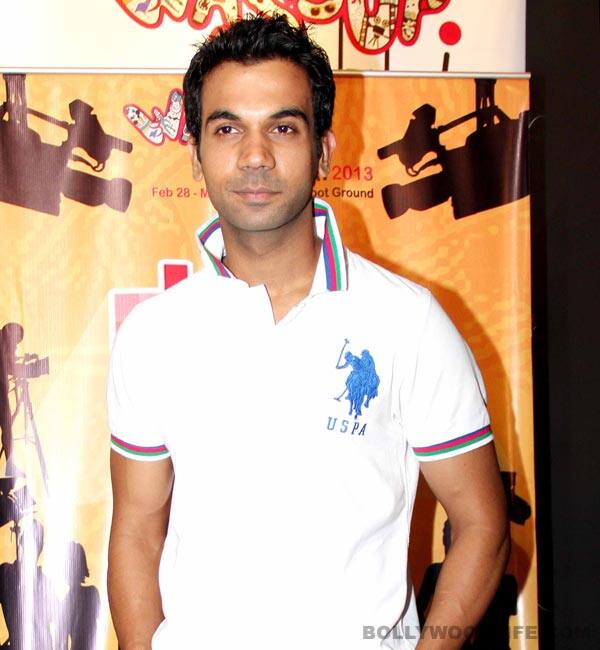 The Kai Po Che! dude talks about his girlfriend, his movie with international star Freida Pinto and much more
Rajkumar Yadav has his plate full with projects, and all of them sound uber interesting – Queen with Kangna Ranaut, NH 10 with Freida Pinto, an autobiographical film with Hansal Mehta (Shahid) – but despite so much on his resume, you can sense the humbleness in his voice. The shy guy is trying hard to come out of his shell and adapt to the world of networking and promotions. And that simplicity about him is something that is super fascinating…and endearing.
If you have seen Kai Po Che!, there's no way you can stop yourself from becoming a Rajkumar Yadav fan. And FYI, let us tell you this Raj is an absolute antithesis to Bollywood's quintessential 'naam to suna hoga' Raj aka Shahrukh Khan. Check out our confab with him….
Did you ever think that a hardcore theatre guy like yourself would have had made it big in the huge bad world of commercial cinema?
Well, I just didn't do theatre, I also did a course from Film and Television Institute of India (FTII) to study film acting. So working in films was always on my mind. This is what I have always wanted to do.
You are doing a film with Freida Pinto – tell us something about that.
I am going to start NH 10 with Freida Pinto. It's a love story with a twist. The script is really good. Freida is practically from Hollywood and I love the way they make their films there. So I am sure working with her is going to be quite a learning experience.
Do you think Kai Po Che! has placed you in a different league now?
As of now it's been like any other film that I have done. Maybe I will get to know that in the near future – whether the film has placed me in a different league or no. But of course it did bring about a change in my life. People recognise me. They know me by name. People don't say, 'I have seen this guy somewhere' any more.
While shooting for Kai Po Che! was there any sense of fierce competition between you three, since Sushant Singh Rajput, you and Amit Sadh are considerably new and obviously want to earn your spurs?
There was absolutely no competition between us.  In fact, we were helping each other out. We were there to support each other. Our only focus was to make a good film.
So who's your personal favourite when it comes to acting?
Aahhh…I am not answering that (laughs). Both have their own style. Sushant is really energetic and focussed. Amit, on the other hand, can die for acting; he can do anything for his craft. They both have their own USPs, which is really inspiring.
We've heard that you have undergone proper training in dance. So are you willing to run around trees or dance atop snow-clad mountains?
Of course, if the character demands, I will do all of it!. I have been dancing since my school days, but I was never really given a character for which I had a chance to show my grooving skills. In Kai Po Che! I did a bit of garba, so I had to undergo training for that for almost a week.
Did you face any issues when people in the Bollywood fraternity stereotyped you?
Well, not yet. If you see, there are very light moments in Govind's (Kai Po Che!) life that will voluntarily make you giggle. I remember Gattu sir (Abhishek Kapoor) once told me that I have to work with him on a comedy film. As an actor, you should be open to doing anything. Just compare Irrfan in Paan Singh Tomar and look at him in Life in a…Metro – that's the thing with a good actor, he should be able to play everything with the same effortlessness.
You have come quite a long way, what do you want to still accomplish?
I still want to play lots and lots of interesting characters. And this is going to be my answer even after 10 years.
You have said in that a bad script is something you always want to avoid – how do you do that when you are not an A-lister?
I think your choices make your career. If we start doing bad films and choose shoddy scripts, obviously people will think that actor is not capable of doing anything substantial. It has to be a very important decision.
Any fun anecdotes from the sets of Kai Po Che!…
You remember that song in the film in which Sushant and Amit take off their shirts and start dancing? That particular scene was not even a part of the script. These guys simply started dancing like crazy and I was just standing there looking at them, and they just pulled me in after a while. Gattu was so happy with the way that moment turned out that he wanted to incorporate it into the film. So it was pretty much an impromptu act that was later converted into a proper scene.
So, are you seeing anyone? We see you making a lot of red carpet appearances with this one girl…
Oh yes! Her name is Anwita Paul. She has done a couple of commercials and has just started her acting career (blushes).