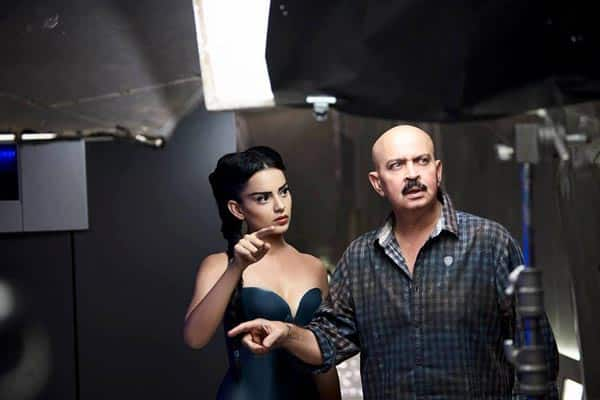 We have known Rakesh Roshan for a dozen odds years. Not much has changed. He has remained the same — simple, unassuming and extremely confident. In the release week of his latest film Krrish 3, he isn't any different.
There is no fear or anxiety. It is his most expensive film till date but the man is at ease. A quick chat with the director on Krrish 3.
Dhoom 3 has three events in your release week. Do you think it is an attempt to sabotage your film?
Not at all. I am sure it is not deliberately done to sabotage Krrish 3. We are all doing our jobs. We are not here to put each other down and sabotage each others work. Ultimately our work will speak for us.
Would you call Krrish 3 your most ambitious and expensive film till date?
Expensive yes, but all my films are very ambitious! Tony Ching from China has done all the action sequences. He is a very expensive action-choreographer but he is very knowledgeable. He had done Krrish too. Tony is the best in wire and cable worker in the world. Every action sequence looks different. The cost was high because of the special effects but because of the way I shot the film, I have controlled a lot of expenses too. A lot of hard work went into it as well. Hrithik took four hours to put on the makeup of an old man. It was not like changing your hairstyle and shirt and coming to shoot. And then to finish this kind of a film in 140 days is a very commendable job.
How did you manage that?
I animated almost the whole film — action sequences, dramatic scenes, and all the double and triple role sequences. For a year, I sat and made it on my computer with my technical team. Whatever shots were not necessary I cut them off. I saw the whole film before I went on the sets so I cut a lot of cost over there. One year I did that and then in six months I completed the film. I started in December and finished the film in June with just two songs remaining and from June to this October.
Apparently you did the animation in India?
Yes 80 per cent at Red Chillies (RC) and the rest at Pixion. After making Koi Mil Gaya and Krrish I gained a lot of knowledge of animation and special effects from Hollywood technicians. So this time I didn't need a supervisor from there. In Krrish 3 we became the supervisors and Red Chillies executed our work. On October 23, I saw the first copy and felt very victorious that we managed to make the film within our budget. Whatever I had visualised, we have got 100 per cent of that so we have reason to feel confident and victorious. I think I saved around Rs 30-40 crore, otherwise it would have been almost impossible for me to have made this film.
Lets talk about the super villains.
There is Kaal (Vivek Oberoi), Kaya (Kangna Ranaut) and the five Maanwars. They have different powers. Krrish is fighting not one but many super villains because Krrish has got a lot of powers and the best part is that I have not defined his full powers till now. In Krrish 3 he evolves with every situation and you see him displaying all kinds of powers. When I started Krrish 3 I didn't have to establish him, I just had to establish a super villain with his past. Kaal wants to create his own superheroes made from mutants called Maanwar — manushya and jaanwar. Both have different ideologies and how they meet in the film and clash forms the crux of my story.
What has been the most challenging bit for you?
For me, working on Krrish 3, has been like going for exams every day, because everything was new. Hrithik is playing three roles in the film — Rohit of KMG, Krishna and Krrish. So in Krrish 3, he had to play the father, who has the mannerisms of a child, then Krishna where he's a common man, husband and son and finally the super hero Krrish who is powerful and strong.
What after K3?
I don't know, Now when I think of any subject — like Koyla and Karan Arjun — I feel I have done that kind of films, so they don't excite me now. At that time it was a challenge for me to make and prove to my audiences that I could make films based on themes like reincarnation. But now I want to make films that challenge me. The Krrish series does all these things. Each of the last three superhero films I have directed, have satisfied my creative urges. At the moment I have no subject but in Krissh 3 and at the end, I have left a hook in the film… If this film works I might take it forward… It is better to come out with the stories of a superman and Krrish is our first Indian superhero. We have only superheroes who save America – no other country has a super hero. India is the only country which has its own super hero!
Do you regret producing Kites?
No. Though it didn't do well it was a good attempt and a well made film. It gave me a lot of recognition abroad. I think I failed because instead of taking Step 1, I took 10 steps forward. It was too early to show a romance between a Mexican girl and an Indian boy. The film was much ahead of its time. I would definitely work with Anurag Basu again as he is a fabulous director and I am really proud of the film he made.
Kangna was upset with her role?
That is between the director and the heroine. I never came in between them. She is not upset with me or she wouldn't have done Krrish 3. What Anurag narrated to her and what was there in the film is between them. They are friends and he introduced her so that's their affair. I never interfered in the creative process.
How involved is Hrithik in the filmmaking process?
He is involved right from the script to the last frame and the release of the film. As a creative person I appreciate it because I get a helping hand and our tuning is perfect. Without him I don't think I would have been able to make this film. We share a great understanding. Hrithik knows my working style as he has worked with me for so many years.
Have you ever thought of expanding your production house like Dharma, YRF and Balaji?
Right now I don't harbour any such ambitions. I can't make more than one film at a time. I want to make good family entertainers. People wait to watch my films and that is the biggest draw. If I make 10 films in a year people won't watch.
ALSO READ: Krrish 3 movie review
Story Source: DNA