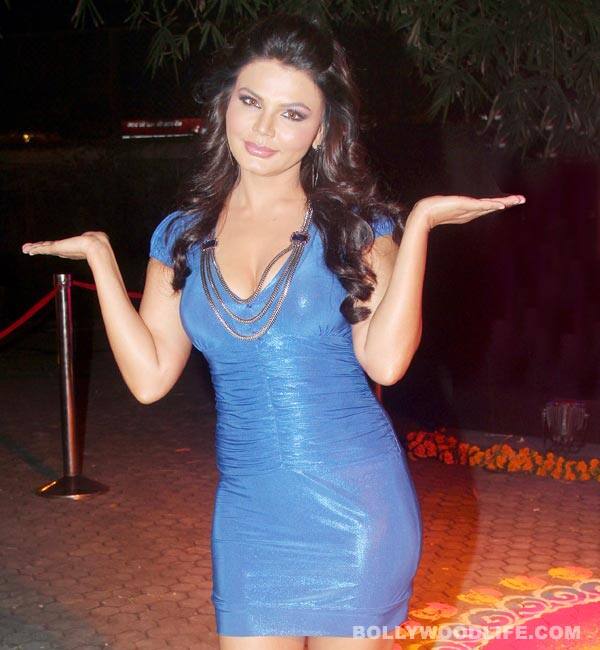 On her birthday, we look at some of the most entertaining moments in the motor mouth babe's career
Born on February 3, 1980, Rakhi Sawant has been bestowed by tons of names including loud, crass, uncouth, motor mouth, drama queen etc, but none of that has stopped the firecracker of a babe from being any less entertaining. And today, as she enters the 34th year of her life, we look back at some of the most entertaining gimmicks Rakhi has been a party to!
Rakhi-Mika kissing scandal! The brash singer, equally, if not more than Rakhi took a well calculated risk, it seems, when he forcefully kissed Rakhi square on the mouth in view of the Indian news media. The act literally gave birth a new lexicon "publicity by controversy" in B-town and made Rakhi, who was only a few item numbers famous, a household name!
Not marrying her husband-to-be after the Swayamvar! In a first of its kind, brave new reality show, Rakhi Sawant was to marry the man of her dreams after a heavily publicised search for the brave guy. And her search was successful too, as she zeroed in on a balding but 'classy' businessman from Canada, Elesh Parujanwala. Yet Rakhi got 'cold feet' at the last moment and ended up only engaging him on TV. And when the duo couldn't score another reality show that would dwell on their newly engaged status, Rakhi dumped him and geared up to cook another little storm for the cameras!
Contestant Laxman Singh Aharwar death! Stunts that are done for mere cheap entertainment value can end up hurting people deeply, was the lesson that Rakhi hopefully walked away with when a contestant actually died after her show. The Jhansi resident Laxman Singh Ahrawar committed suicide after being allegedly insulted on her vigilante show Rakhi ka Insaaf for being impotent, where Rakhi would regularly called upon erring individuals who were made to bear the brunt of her fiery tongue. A case was registered against her and the channel was held responsible along with Rakhi for his death.
Baba Ramdev's virginity! This one must have been a sure shot shocker for babaji who himself holds similar entertaining yet controversial views. After Baba Ramdev dismissed her marriage proposal to him as indecent, Rakhi challenged the baba to participate in the reality show Bigg Boss, where she said she would cause him to 'lose his virginity!' Well, there was no retort from the god man as he nursed his hurt pride, while Rakhi cemented her position as a firebrand entertaining motor mouth!
Slapping the boyfriend! Rakhi placed a few well deserved slaps on boyfriend Abhishek Awasthi's rosy cheeks after he tuned up on Valentine's Day with a bunch of roses. And though the incident reeked of a publicity stunt, it was laugh out loud fun to see the make-believe lovers' tiff, and notice the coy smile on Rakhi's face after news channels turned up to record the incident. Also, in the video where Mika kisses Rakhi, Abhishek can be seen cheering him on! Now we really wish that she would have slapped him harder!
Boob-job woes! The babe uttered the infamous words that truly made us term senseless yet practical humour to be branded as Rakhi Sawant humour. On an episode on Koffee with Karan, Rakhi confessed to getting a boob-job done where she remarked, "Jo Bhagwan nahi deta, woh doctor deta hai!" Well, we couldn't agree more while we were in splits on our couches!