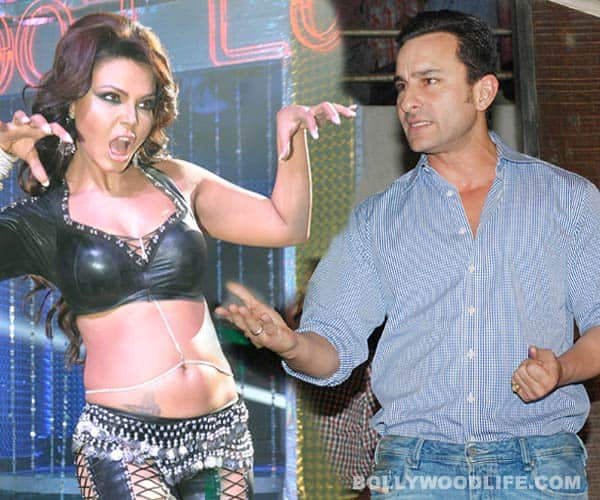 The original motormouth controversial babe Rakhi Sawant is back, and this time she's all set to take on the newlywed Nawab of Pataudi, Saif Ali Khan. The model-turned-TV host, who has been known to create hungama with her verbal diarrhoea ever since she entered showbiz, gave her bhavishyavaani about Saif only a couple of days ago. According to her, the actor uses woman like tissue paper. And if you think this is it, wait…there is more!
When the media cornered Rakhi Sawant two days before Saif-Kareena's royal wedding hoping that she would shower her best wishes on the newly married couple and say good things about them everyone and their microphones were taken aback with the item girl's startling revelations particularly about Saif Ali Khan. But we know it made for that perfect bite; after all, the media is very shaana – it knows what Rakhi can do when she gets going!
Rakhi went on to say that the Saif-Kareena marriage has a very limited shelf-life. "I don't think yeh shaadi bahot der tak tikegi, especially after they become parents, Saif and Kareena will get separated," she insisted. "Mujhe Saif ki neeyat achchi nahi lagti, but I feel Kareena is a very good girl."
It seems that if Rakhi had had the option to prevent the Saifeena marriage, she certainly would've done so. We don't know what Saif did to Rakhi to make her so nasty. But we think the newlywed Nawab should meet the item bomb at least once so that they can sort out their differences…and give us some masala to write about. What say, readers?