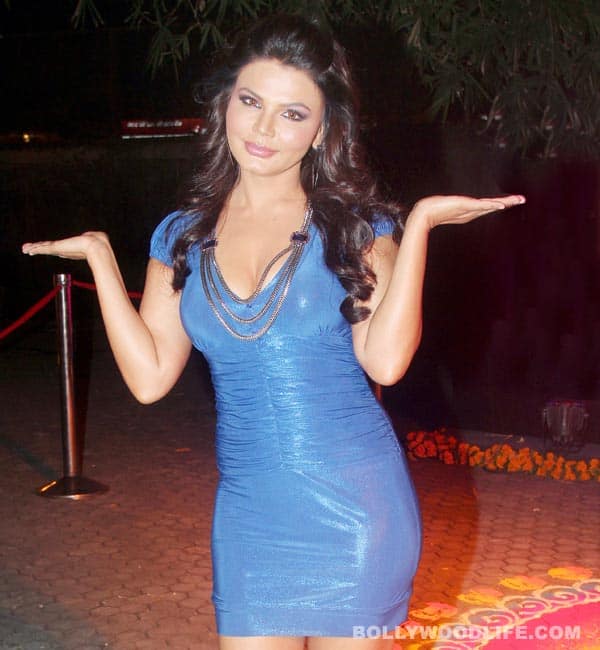 Presenting some of the best and most hilarious quotes by Miss Motormouth item gal on the eve of her 34th birthday
Born on 25 November, 1978, Rakhi Sawant has a penchant for shooting off some of the most choicest and most interesting comments any time there a microphone nearby. Call her offensive, ironic, outrageous, boorish or whatever adjective you could come up with, but you cannot deny the fact that when Rakhi Sawant talks – which she does, a lot – it is plain good fun! You may not see her in a lot of movies around the year, or even too much on television, for that matter. But the badass motormouth that she is, Ms Sawant has kept us well entertained and at times astonished by the wide variety of topics she dives into and has opinions on, some informed, some off the…err…cuff.
Well this year too the loose-lipped babe did not spare a lot of people. Her firepower comments were launched with equal malice and tongue-in-cheekiness towards one and all. So be it Baba Ramdev, or Anna Hazare, arch rival Veena Mallik or even the Saif Ali Khan-Kareena Kapoor marriage, everyone got a bit of Rakhi's crackling comments. Here are a few of her more special sayings. Ready to be astonished once again?
"Jo bhagwaan nahin deta hai woh doctor deta hai"
– On cosmetic surgery
"Mujhe Saif ki neeyat kuch theek nahi lag rahi hai. Kareena toh bohot achchi ladki hai, par mujhe Saif achche nahi lagte. Mujhe unki neeya theek nahi lagti. Mujhe aisa lagta hai ke women ko who tissue paper samajte hai. I don't think zyada tikega. So after one baby maybe. Kareena deserves a better husband!"
"Agent Vinod's children are almost as old as his girlfriend"
– On the Saif-Kareena marriage
"This Diwali, two big films are releasing at the box-office! I love Shahrukh Khan, I absolutely love him because I started my career with Red Chillies Production! Shahrukh meri jaan hai. And Son of Sardaar is also releasing starring Ajay Devgn! He is the strongest, like Angry Young Man! It is a mighty clash. I want to say to everyone that please help Shahrukh and watch his film"
– On the Jab Tak Hai Jaan vs Son of Sardar controversy
"Rahul Gandhi is a good bet. Hope he sees me today as I look very beautiful in the bride's outfit."
"Like Draupadi in Mahabharata, I want to marry all 16 of the contestants because all of them are great people."
"I want my man to approach me like Salman Khan, speak to me like Aamir Khan and kiss my hand like Shahrukh Khan."
"Saas bilkul Lalita Pawar ki tarha hona chahiye. Saal bilkul spicy honi chahiyem kyunki unki bahu mein itna spice hai!"
"No, I will check all suitors properly. I will test ride them all."
– On choosing a groom for herself on the show Rakhi Ka Swayamvar
"It seems Katrina really likes me – in Chikni Chameli, she is again following me"
– On Katrina's hit item number Chikni Chameli
"Who is Shahid Kapoor's girlfriend actually? Is it Vidya Balan, is it Karena Kapoor, is it Priyanka Chopra, is it Sania Mirza or who? Same with Salman. I want to ask him who is his girlfriend out of the four or 5 girls he is seeing, and when will he make friends with Shahrukh Khan?"
– On Shahid Kapoor and Salman Khan