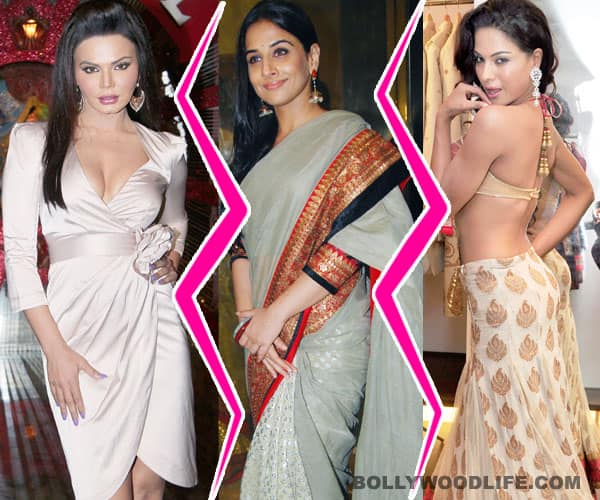 The curvaceous Kahaani beauty was asked to comment on the two starlets doing Bengali and Kannada remakes of her super-successful film, The Dirty Picture. Guess whom she voted for!
If you thought Vidya Balan was being straightforward during the promotions of The Dirty Picture only because her character in the film was that way, well, you got it right. Just the other day Vidya was quizzed about what she thought of Rakhi Sawant and Veena Malik starring in the Bengali and Kannada versions of The Dirty Picture respectively. The Kahaani actor proved that unlike Silk she prefers diplomatic answers to speaking her mind. Vidya, we hear, said that she is sure Rakhi will be "superb". She has seen Rakhi's earlier work and thinks that the item gal will definitely make the film entertaining. And this seemed spot on, since that is the character, after all – entertainment, entertainment, entertainment!
If that wasn't too safe an answer for Vidya, she took the other more clichéd route for Veena. She claimed she hasn't seen Veena's earlier works and hence could not comment on the Pakistani import's suitability. We wonder though if Vidya is truly as blasé about other actors revisiting her role as she claims to be. Or whether she has taken the saying 'imitation is the best form of flattery' to heart.