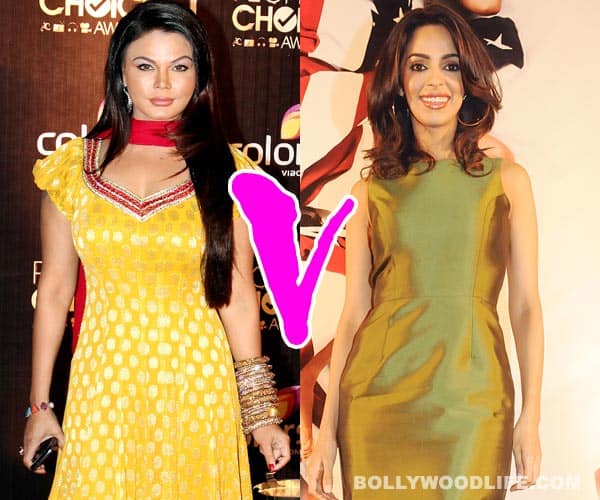 The loud and super honest Rakhi Sawant made a dhamakedaar statement about Mallika Sherawat recently and wethinks that's going to give rise to an entertaining series of arguments between the two hot babes
Rakhi Sawant is known for asking impertinent questions and making controversial statements. And she seems to get some kind of a cheap thrill by doing so. So as Mallika Sherawat hisses her way on to the small screen with her new reality show, The Bachelorette India – Mere Khayalon Ki Mallika on Like Ok, Rakhi can't seem to hold her horses. She seems to have that itch, that uncontrollable urge to compare Mal's show with Rakhi ka swayamwar – thorugh which Rakhi didn't find a single decent friend, let alone a soulmate, remember? Ms S insists that Mal is doing all this for money and these kinds of shows shouldn't be taken too seriously.
Honestly, if this would had been anything else, we would have chastised the motormouth babe for being such a hopeless 'attention seeking' chick, but as the electronic media is emblazoned with Ms M's corny quotes stating that she's lonely and is doing the show to find someone who's honest and loyal, blah blah, we couldn't help but take Rakhi's side. The item babe's allegations are way better than Mallika's sentimental hogwash…and more genuine.
But will all this give rise to a series of entertaining fights between the two gals? Our powerful sixth sense says it will. Rakhi's straightforward demeanour and Mallika's spicy temper are very likely to create an entertaining riot, and we are gonna be hooked to it all with our butter-soaked popcorn and fizzy can of cola at hand…