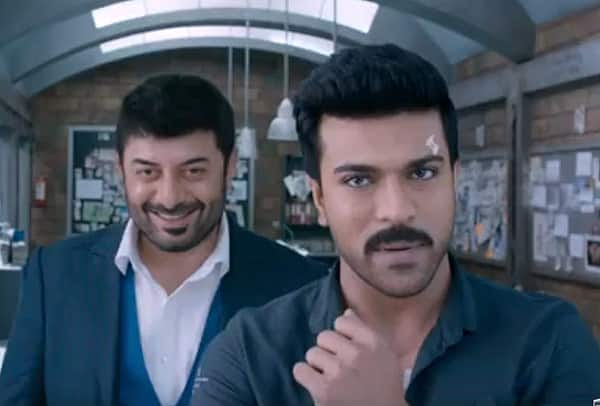 As we all know, Ram Charan's Dhruva will hit theatres on December 9. The Telugu star plays an IPS officer in this movie. It for this cop role he went through a complete makeover, got leaner, fitter and even resorted to Veganism. Of course all this hard work has paid off, the Telugu actor has never looked better. But with this movie, not only the hero but the villain also has us equally excited. Siddharth Abhimanyu, the unapologetic baddie will be played by none other than Arvind Swamy. He will reprise his role he played in the original Tamil movie. In fact it was this movie that marked his glorious Kollywood Comeback after a fizzled out bomb in the form of Kadal.  So what is intriguing about Siddharth Abhimanyu? Also Read: Dhruva Trailer: Ram Charan's Telugu remake will make you forget the original Tamil movie
He's razor sharp-intelligent, suave and unapologetic about being villainy. What's even more fascinating, there is no reason why he turned to the dark side, it's just the way he is. He is the kind of bad guy that gives heroes something to think about, he's the kind of villain who will challenge you so much so at the end of it, you develop a strange kind of respect for him. Remember Joker from Dark Knight? He was equally revered as much as Batman if not more. Will that happen in the case of Dhruva too? Will Siddharth Abhimanyu walk away with all the accolades for the Telugu version as well? After long, a Telugu film will have an intelligent villain quietly challenging the hero as opposed to the loud, over smart cheeky ones who dig their own graves at the end of it. On December 9, we will eventually know, if the Telugu audience is finally ready for Siddharth Abhimanyu.
Interestingly, Ram Charan while speaking to a leading daily revealed that he could think of no one else but Arvind Swamy to play the role. " He set the benchmark so high with his performance as Siddharth Abhimanyu (in Thani Oruvan) that we couldn't think of any other actor to play the role. That is why we decided to cast Arvind and retain the name of his character." This will be Arvind Swamy second Telugu film after Mounam. Will the Roja actor give us a repeat performance of Thani Oruvan? We really hope so.