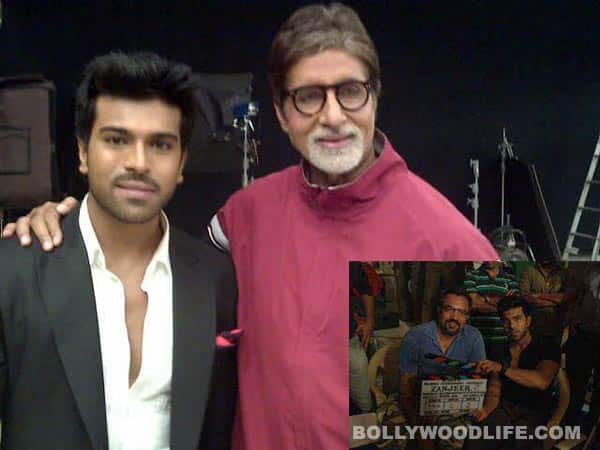 Telugu hottie Ram Charan Teja is all set to reprise the legendary actor Amitabh Bachchan's role as Vijay in the remake of Zanjeer. Ram Charan is not fluent in Hindi, but hopefully that isn't likely to come in the way of his Bollywood debut project – as his character lets his silence speak for itself. But that's doesn't worry him much. It's the responsibility of stepping into megastar Big B's shoes that's got him nervous
Ram Charan Teja the hot dude from the Telugu film industry got tongue tied when he met the real 'Vijay' of Zanjeer at Film City. Apparently Amitabh Bachchan was at Film City, shooting for a commercial when he heard that Director Apoorva Lakhia and Ram Charan were shooting for Zanjeer remake. He immediately expressed a desire to meet the newbie. When Lakhia introduced the newcomer to Big B, Chiranjeevi's son was overwhelmed in his presence. The two shared their versions of Zanjeer and chatted away endlessly. The meet ended with Ram Charan taking Big B's blessings. The Telugu star in a candid conversation speaks about his concerns with the remake of Zanjeer.
"So far dealing with being Chiranjeevi's son was a challenge enough. But that challenge is nothing when compared with what I face now. To get into the space of India's biggest star-actor is a prospect that I am not brooding over," said Teja. But he isn't mulling over prospective comparison with the much senior Amitabh. "If I think about how I'll be compared in our Zanjeer with Mr. Bachchan, I wouldn't be able to get into it. I've constantly lived under the shadow of comparisons. "When I started in Telugu cinema in 2007, I was judged as the great Chiranjeevi's son. If I cowered, thinking I was being seen only as an heir-apparent and not an individual, I'd have been immobilised. I just did what came naturally to me," he said.
Teja's father Chiranjeevi too tried his luck in Hindi films like Pratibandh and Mera Maqsad, and the young actor feels that language is no bar for him. "He did some films in Hindi and then returned to Telugu cinema. The world has shrunk since then. To me, Hindi cinema is only an extension of what I'm already doing. It doesn't matter what the language of a film is. A movie is a movie at the end of the day," he said.
His other not-so-big concern is the Hindi language. "I'm working on my Hindi for sure. I've got a tutor to teach me the nuances. Waise meri Hindi utni buri nahin hai (Anyway, my Hindi is not that bad). But yes, it's a character who screams through his silence," said Teja. "So let's just say I'd let my silence speak louder than my words. That's how my director Apoorva Lakhia and I are working on my character," he added.
Apart from Zanjeer, Teja's most well-known Telugu film Magadheera might be remade in Hindi. But Teja says he isn't interested in doing the film in Hindi. "I'm done with that character and role. Magadheera was a special challenge. But to recreate that challenge would be of no use. I'd rather do a Zanjeer which has been done earlier by another actor. I'd like to see where I can take that role," he said.
There are also plans to bring the father-son duo together on screen soon. "My father has completed 149 films. I hope to produce his 150th film and be part of it as an actor as well," said Teja, who has no plans of getting into politics like his father. "I'm happy being an actor. I don't see myself in the role of a politician at all," he said.
But was there a lot of politics in southern movies? "Not at all," said Teja, adding: "All of us in Telugu cinema who are working as leading men, share a common platform. We're competitors on screen. But once we're out of the studios, we're one big family. In that sense, cinema is a lot like politics. My father says when he enters the Assembly; all the politicians debate, argue and fight. But once they are done, they become friends again."
ALSO READ:
Sanjay Dutt may play Pathan Sher Khan in 'Zanjeer' remake