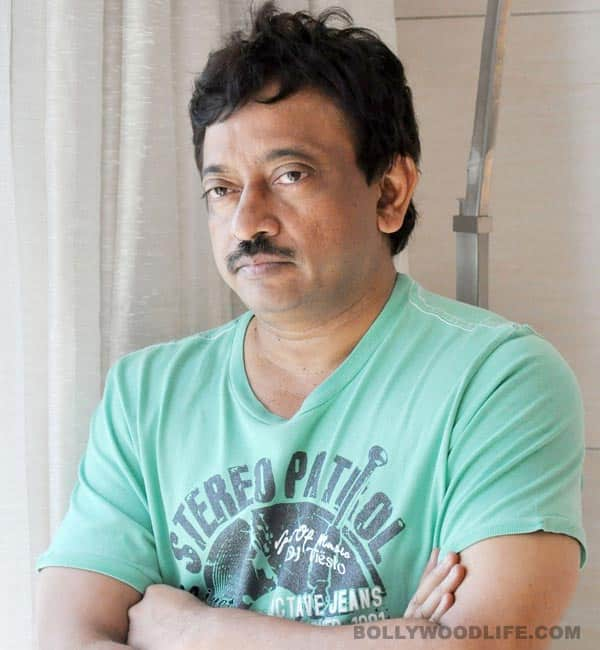 From being the messiah of newcomers to being a man at the mercy of the Bachchans, Ram Gopal Varma's fall from grace has been drastic and sudden. But no criticism or backlash can break the maverick filmmaker's spirit. He strikes back – again – with a boo!
Ram Gopal Varma's next horror film – Bhoot Returns, in 3D releases today. We caught up with the filmmaker to get him talking about his new film, and just when we thought it would be a serious affair, RGV surprised us with his quirky, straight-faced humour and hilarious repartee….
Even before the release of Bhoot Returns, you tweeted about the film's sequel…
I thought of making the sequel, so I just tweeted.
How do you plan to take Bhoot Returns ahead? The first part released almost a decade ago…
When you make a sequel, you take the story forward, but sometimes you take the characters forward and not really the story, like Sarkar and Sarkar Raj. In Bhoot Returns, we have gone ahead with just the theme and not the characters. Bhoot was about characters who get trapped in a house that is haunted, whereas Bhoot Returns is about another set of characters again in a haunted house, but the treatment and screenplay is different.
Do you believe in ghosts?
No. If I make a gangster film, that doesn't mean I have to believe in crime.
What if you encounter a ghost some day?
I don't know. It depends on the situation. I think it would be interesting to study a ghost. I would love to interact with a ghost. I'll have to make a questionnaire first.
Your last horror film Phoonk 2's box-office collections scared you more than the film which aimed to scare people. Do you think Bhoot Returns will change the game for you?
I don't think any filmmaker makes a film thinking that it will change his fortune. If he makes it with that intention but still the movie fails to change his standing at the box-office, then what's the point?
What made you cast Manisha Koirala?
Because I believe she's perfect for the character she plays in the film.
Do you think success of Raaz 3 has opened the market for 3D horror films?
I think the 3D technology was always there; take for instance Vikram Bhatt's Haunted. I don't think technology can really change the film's fate. It's the content that matters. The technology should be used in the right way to create fear in the audience's mind. It allows the audience to believe that they are moving along with the characters, and so they relate to it easily. I did experiment with a lot of such incidents in this film and especially because of 3D, it has got accentuated to a different level.
After Rangeela, you got stuck in the underworld drama and horror genre…
I think I'm the only director in Bollywood who has attempted every genre. Most people have the tendency to make films of only one kind. I made Daud, which was a loud comedy and had lots of spoofs. I made a colourful film like Rangeela, an underworld story like Satya, political thrillers like Sarkar and Sarkar Raj. But you're right in a way – I like mostly dark, intense stories and want to show powerful characters in my films, like Subhash Nagre from Sarkar. The genres are also about seven or eight and not more than that. But definitely there are certain things I don't subscribe to at all, like rom-coms and chick flicks and all that. I don't think Rangeela was a rom-com; I think it became successful due to several factors like AR Rahman and Urmila Matondkar, who was presented in a different way for the first time and, of course, Aamir Khan's brilliant performance. So a combination like this never happened for me after Rangeela. I guess that's what's stopping me. It's not that I've become a gangster or a ghost.
How about making a love story in 3D?
Yes, I want to do it, because I would love to see beautiful women in 3D – which would be the only reason for me to make a love story in 3D!
It was speculated that you were keen to sign Sunny Leone in Bhoot Returns, but later it was reported that you wanted to launch Nathalia Kaur. Now we hear that Nathalia might be doing Pooja Bhatt's Jism 3. We hear that you are extremely pissed off with Nathalia…
No, it's not true. I never get pissed off with anybody.
Would you like to work with Sunny Leone?
I never dreamt of working with any actor except Amitabh Bachchan. I always finish the script first and depending on that, I chose actors.
You recently expressed the desire to work with Kareena Kapoor….
See, in today's time the media has become so powerful that it keeps on making news which surprisingly, I hear from the media itself. What do I do? What I think of doing, the media say I'm already doing. So this is the kind of situation I'm in right now.
You've started experimenting in terms of shooting styles – case in point was Department, which was severely criticised. Does it hurt?
In the history of cinema, to my knowledge there's no film which has been criticised for technique except Department. If I had used the same technique for a film like Satya, the film would've been a hit. Techniques never make or break a film. It's basically the content that matters. But we are a democratic country and everybody has an opinion and you have the right to express it. I guess they have more opinions about me also, because I'm one of their favourite punching bags.
You said you were working on a script especially for the Bachchans….
It's on my mind.